This lively area is Venice's most vibrant waterfront promenade. Positioned between the Doge's Palace and the Arsenale, it is constantly crowded with tourists.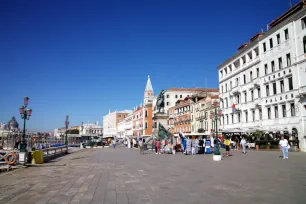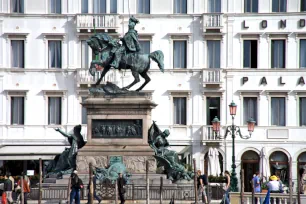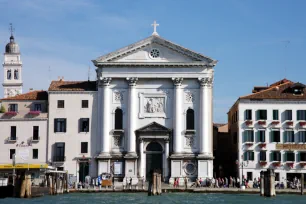 The Riva Degli Schiavoni is a lovely and lively – albeit often overcrowded – promenade that sits on the waterfront at St. Mark's Basin in Venice. It was originally built in the ninth century from dredged silt and was named for the Slavic men who brought cargo to Venice from across the Adriatic Sea.
The market Stalls
The market stalls that crowd the area probably had their start in the fifteenth century, when Slavs and Greeks moved into the area and would line the promenade to sell their meat and dried fish near the wharf.
Today, the stalls are still present though meat and dried fish aren't generally part of the fare. What visitors will find nowadays is a variety of snacks, pastries, confections of all sorts, and plenty of Venetian souvenirs for visitors to take home with them.
The Promenade
The Riva Degli Schiavoni commences outside the Doges Palace and ends near the Arsenal. Along the way the promenade is lined with numerous hotels, restaurants, bars, and a number of notable historic buildings. Some of the hotels once functioned as palaces. For example, the Hotel Danieli used to be the Palazzo Dandolo, home to the aristocratic Dandolo family. Originally Byzantine in style, the palazzo includes a modern 1950s extension
that was added when it was made a hotel.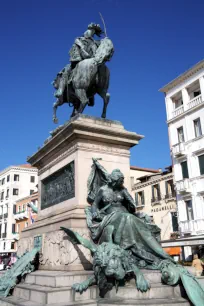 Vittorio Emmanuele II Monument
A bit further from the Hotel Danieli, across a small bridge, is a large bronze monument honoring Vittorio Emmanuele II, the first king of Italy. It was created in 1887 by Ettore Ferrari.
Pietà
Also situated along the Riva Degli Schiavoni is the Church of Santa Maria della Visitazione, known to locals as La Pietà. It was the home church of early Baroque composer Antonio Vivaldi, who composed and performed some of his best and most famous works at this church. This church also contains some notable sculpture.
San Giorgio Maggiore
A walk along the Riva degli Schiavoni also provides great views of the island of San Giorgio Maggiore, located to the south, strewn with magnificent Palladian architecture that dominates the skyline. The island has recently become renowned as a cultural center and is the site of many concerts and recitals.