This magnificent church is one of the most photographed structures in Venice. The church was built in the seventeenth century on a narrow strip of land near the Grand Canal.
History of the Church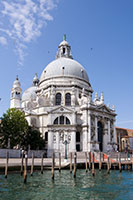 Santa Maria
della Salute
The Basilica di Santa Maria della Salute, referred to by most locals as simply Salute, sits on a narrow strip of land between the Grand Canal and the St. Mark's Basin. The church was proposed in 1630 by the Venetian Senate in response to a particularly terrible wave of the plague, which had already killed about a third of the city's population. The Senate promised to build the church in honor of Mary if she would free the city from the plague. After the epidemic had subsided, the Senate kept its promise and construction of the church soon started.
At the same time, the senate decided that the new church would be the site of the annual Feast of the Presentation of the Virgin, which would involve a procession from San Marco to the Salute in the sestiere Dorsoduro. Because this would involve crossing the canal, the site was chosen for easy access. The annual feast – known as the Festa della Salute – is still held every November 21, when a temporary bridge is constructed over the Grand Canal.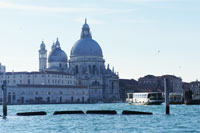 View from the Lagoon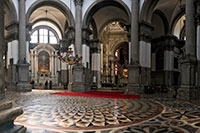 Interior
Potential designers competed for the right to create this magnificent new basilica and, ultimately, Baldassare Longhena was chosen. Longhena designed a massive structure with large domes and volutes. He would never see his masterpiece completed; Longhena died five years before the church opened in 1687.
Architecture and Art
The Salute is octagonal in shape and sits on a platform of 100,000 wooden piles. It is constructed of Istrian stone and a marble-dust-covered brick known as marmorino. Though classic in design, it contains some Byzantine elements.
Inside, the high altar arrangement is Baroque in style and was also designed by Longhena. The statuary there depicts "The Queen of Heaven Expelling the Plague". It was created in 1670 by Flemish sculptor Josse de Corte. Also located in the high altar area is a Byzantine Madonna and Child that was crafted in the twelfth or thirteenth century.
Also inside are Tintoretto's "Marriage at Cana" and many pieces by Titian, including a magnificent ceiling painting of David and Goliath. Unfortunately some of the masterpieces are located behind the altar, out of reach for visitors of the church.