Connecting the districts of San Polo and San Marco across the Grand Canal in the heart of the city, the Rialto Bridge has always been a busy crossing in Venice. But instead of being crowded with merchants like during Venice's heyday, the bridge is now swamped by tourists.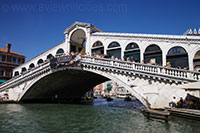 Rialto Bridge
Probably the most visited and most photographed bridge in Venice, the Rialto Bridge (Ponte di Rialto) opened in 1591. For nearly three hundred years, it was the only way to cross the Grand Canal on foot. The bridge replaced various wooden bridges that had occupied the same location since the twelfth century.
Earlier Bridges
The first bridge over the Grand Canal was a wooden bridge, built in 1180 and supported by boats. This bridge was replaced by a more solid wooden bridge in 1264 and again in 1310. That third bridge however collapsed under the weight of spectators watching a boat parade during the wedding of the marquis Ferrara. A new bridge was built once again, now as a wooden drawbridge.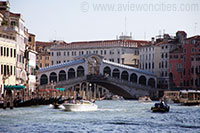 By the end of the sixteenth century this third bridge had become so dilapidated that it was decided to build a new bridge across the Grand Canal, this time in stone.
Building the Bridge
Several prominent artists and architects were considered for the design of the new Rialto Bridge, including Michelangelo, but the honor went to Anthony da Ponte, whose name appropriately translates to mean "Anthony of the Bridge". Construction of the bridge started in 1588 and it was completed three years later.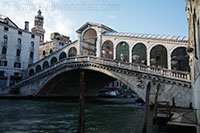 The long construction time drew a lot of criticism from the many merchants in the area who had no other option than to transport everything by boat. The wait was worth it however; the Rialto Bridge is now considered the most beautiful and famous of the four bridges that cross the Grand Canal, which also includes the Accademia and the Scalzi Bridges as well as the modern Calatrava Bridge.
The Design
The Rialto Bridge is formed by two inclined ramps covered by a portico with shops on either side. (This area has long been a market place for Venetians.) There are three walkways that cross the bridge – two along the outer balustrades and a wider one in the center.
Because galley ships passed under the bridge in days gone by, the bridge's arch is higher than many – reaching about 7.5 meters (24 feet). About 12,000 wooden pilings support this bridge with a single span of 48 meters (158 feet).
As a top tourist attraction, the Rialto Bridge is generally included on most tours of the city and is easily photographed while riding a vaporetto (water bus) along the Grand Canal.