Aside from walking, Venice's vaporetto system is by far the best way to get around the city.
What's a Vaporetto?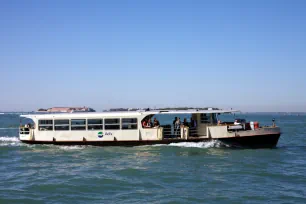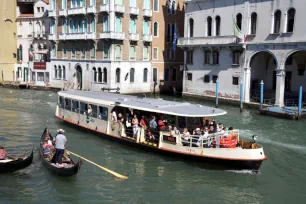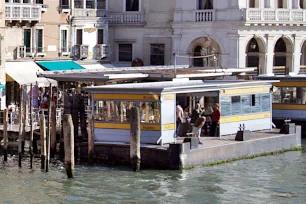 A vaporetto (plural: vaporetti) is a water bus that takes both locals and visitors to the places they want and need to go throughout Venice. Because traveling the canals is the easiest way to get around the city, the vaporetto have long been the most efficient and cost-effective modes of transportation, aside from walking.
Like a bus, vaporetti hold a number of passengers and it's not unusual to see travelers carrying their luggage on board in order to get to or from their hotel. For the price of a bus ticket, the water bus system will take you up and down the Grand Canal, to the islands, and around the lagoon.
Riding in the front offers the best views, so if you're able to grab the forward seats, go for it. This will give you the opportunity to snap a lot of great pictures along your journey. During the summer, however, the vaporetti can become quite crowded, so the front seats are at a premium. You'll also want to leave plenty of time to get from one place to another during peak tourist season as the water buses often get overcrowded.
Vaporetto Fares and Routes
Single vaporetto fares aren't the best way to proceed if you're spending quite a bit of time in the city and plan to travel a lot by water. Instead, at many vaporetto stations, visitors can buy a travelcard for time periods ranging from 12 to 72 hours.
There are a number of vaporetto routes to consider and a route map (available at stations and at various other places around town) will help you decide which to choose. Route #1 goes up and down the Grand Canal and stops at all six districts – called sestieri – so it's a good first ride to take, especially if you're new to Venice. It's also a good idea to try the #1 vaporetti in the evening as well, when the lights of Venice are breathtaking.
Several of the routes connect with the train station (which is along the Grand Canal) but not the airport. It's necessary to take a water shuttle or a different water taxi line to Venice's Marco Polo Airport.