Gastown is the area where Vancouver was founded in 1867. It is now situated east of the main downtown area, near Chinatown.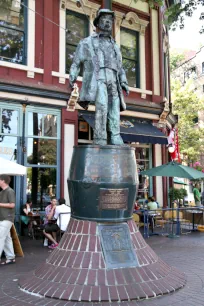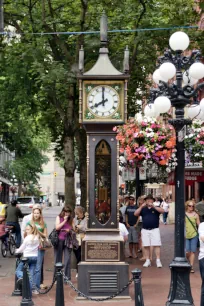 History
The area was originally called Gassy's after the saloon proprietor Gassy Jack Deighton. After being rebuilt from the fire in 1886 the village was renamed to Gastown. Over time, the city grew more and more westward and changed its name to Vancouver, while Gastown became known as Old Vancouver.
It became a run-down area until it was suggested to tear down the whole historic site. Under the pressure of the local community to preserve Gastown, it was designated a historic area by the provincial government in February 1971, and the old buildings were saved from the wrecker.
Attractions
Today, the renovated Gastown, with its cobbled streets and restored Victorian buildings, is a pleasant place for strolling, shopping or dining. It also contains some nice malls together with a lot of souvenir shops and street vendors.
The main tourist attractions in Gastown are the unique steam clock and the statue of 'Gassy Jack' Deighton. The Gastown Steam Clock was the world's first steam clock and was originally built to cover a steam vent. The two ton weighing odd-looking clock whistles every fifteen minutes.