Stortorget is Stockholm's most charming square. Ever since the thirteenth century, this square has formed the heart of Gamla Stan, the Old Town of Stockholm. It is bordered by beautiful patrician houses.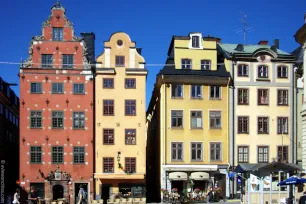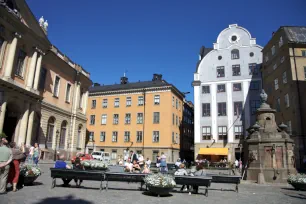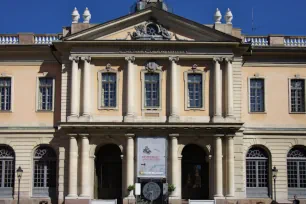 Ever since the early Middle Ages, this square has been a central meeting place, and on market days the square was bustling with activity. Until 1732, when the city hall moved to the Bondeska Palace, Stortorget was also the political heart of the city. Today, the square mostly attracts tourists, many of whom take a break at one of the inviting cafés that border the square.
Stortorget is lined with beautiful buildings, erected during the seventeenth and eighteenth centuries. The west side of the square is arguably the most picturesque and gives a good idea of what the square looked like during the heyday of imperial Sweden in the seventeenth century. The most ornate is the facade of the red Schantzka Huset, built in 1650 and decorated with a porch with figures of Roman soldiers.
Börshuset
The most impressive building at the square is the Börshuset, the former stock exchange building. It was commissioned by king Gustav III and built between 1767 and 1778 after a neoclassical design by Erik Palmstedt, who was only twenty-six years old when he created the design.
The Börshuset was built at the site of the former city hall, which occupied several row houses. In 1990, with the introduction of electronic trading, the building lost its original function. Today, the ground floor is home to the Nobelmuseet (Nobel Museum). The Börshuset is also where the Nobel Prize of literature is announced and where the Academy holds its formal meeting.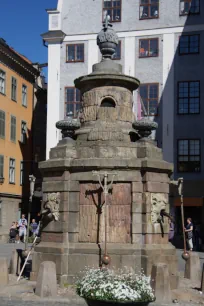 Stortorgsbrunnen
Ever since the Middle Ages, a well stood at the center of Stortorget. In 1778 Erik Palmstedt, architect of the stock exchange building, designed the current monumental well, known as the Stortorgsbrunnen. The well marked the center of Stockholm: from here all distances in the city as well as the distances to other cities were measured. In 1857, shortly after the well had dried out, it was moved to Brunkebegstorg, but it returned to its original place in 1953.
Stockholm Bloodbath
Today Stortorget is a peaceful square, but it was once the scene of one of the darkest episodes in the history of Stockholm. In 1520, shortly after the Danish king Kristian II had conquered Stockholm, he promised to grant amnesty to his opponents. The king organized a large banquet, to which all Swedish dignitaries were invited. At the end of the festivities, he had eighty-two of the guests who had opposed his rule arrested. They were all beheaded at Stortorget the following day. This didn't deter the Swedish from revolting against the Danish occupation: just three years later, Gustav Vasa liberated Stockholm.