The Östermalmshallen, officially known as the Östermalm Saluhall (food hall), is a covered market hall built at the end of the nineteenth century. Inside the hall are excellent delicatessen and several restaurants.
The Market Building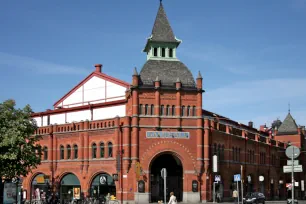 In 1888 the market hall was officially inaugurated by king Oscar II after it was built in an amazingly short span of just six months. The brick structure with its medieval style tower was built around a cast iron frame. At the time, the construction of such a frame was a novelty in Sweden, and the building was hailed for its innovative design.
The iron frame and roof were designed by Kasper Salin, a Swedish architect, who was influenced by the cast iron architecture in France, where Gustav Eiffel was building the Eiffel Tower. His partner Isak Gustaf Clason, a local architect, was responsible for the brick facade of the Östermalmshallen. He was inspired by the medieval brick buildings found in northern Germany.
The Food Market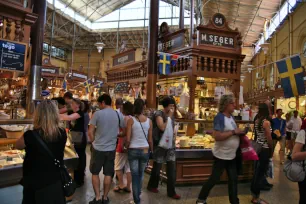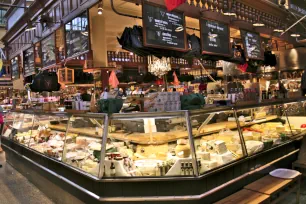 The interior of the Östermalms Saluhall – often described as a 'temple of food' – is just as attractive as its exterior. The covered food market has about twenty delicatessen, all beautifully decorated with carved wood.
They offer a wide assortment of cheese, sausages, fruit, fish and game – including reindeer and moose – and other delicacies. There are also several restaurants inside the market hall. Despite the relatively high prices, the Östermalmshallen food market is popular both with locals and visitors, and it can get pretty crowded inside.
The square in front of the Östermalmshallen, Östermalmstorg, hosts a flower, fruit and vegetable market during the summer months.