The Konserthuset is a concert Hall built in the early twentieth century near Hötorget, a market square in the heart of Stockholm. Its main hall is used for the yearly ceremonial presentation of the Nobel prizes.
The Concert Hall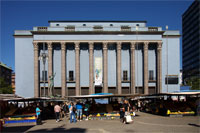 Konserthuset
At the beginning of the twentieth century the Neoclassical style was the most popular architectural style in Sweden and the concert hall at the Hötorget square is one of the last examples of such architecture in Stockholm.
The concert hall was designed by Swedish architect Ivar Tengbom, one of the country's most famous Neoclassical architects, and was completed in 1926. Tengbom created an imposing building with a monumental facade characterized by its light blue color and ten tall Corinthian columns. Despite these monumental columns the building looks rather austere, with little decoration, and as such it is already pointing towards the modernist style that would soon become popular across Europe.
The most famous hall in the Konserthuset is the Grünewald Hall, named after Isaac Grünewald, who was responsible for the design. It has a magnificent Renaissance interior. The largest – and less ornate – hall is the Main Hall, which seats about 1770 people. It was renovated in 1971 by Ivar Tengbom's son Anders to improve the acoustics of the hall. In 1982 a large organ was installed behind the podium. The smallest of the three rooms of the Konserthuset is the Aulin Hall, named after the Swedish composer Tor Aulin.
Since its opening in 1926, the Konserthuset has been the home of the Royal Stockholm Philharmonic Orchestra. And each year on December 10, the Swedish king awards the Nobel Prizes here in the main hall. The one exception is the Nobel Peace Prize, for which a separate ceremony is held in Oslo.
Hötorget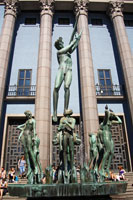 Orpheus Fountain
The square in front of the Konserthuset is the Hötorget (Hay Market). This has been a market place since the Middle Ages and despite the construction of a modern covered market hall – the Hötorgshallen – in 1958, the square is still a lively market place during summertime.
The main attraction at the square is the Orpheusfountain – known as Orfeusbrunnen or Orfeusgruppen – in front of the Konserthuset. The fountain was created by Carl Milles, probably the most famous Swedish sculptor of the twentieth century. Milles created this large sculpture group between 1926 and 1936. He also created four marble statues that adorn the foyer of the Konserthuset. More of this sculptor's works can be found in Millesgården, a sculpture museum and park on the island of Lidingö just outside Stockholm, where Milles lived and worked for twenty years.