The Peter and Paul Cathedral is an early eighteenth-century cathedral with a lavish Baroque interior. Peter the Great and most of the tsars after him were buried here.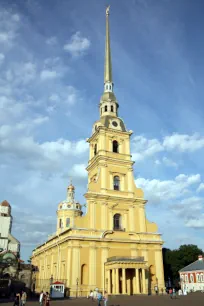 History
Construction of the Peter and Paul Cathedral started in 1712. It replaced the wooden Peter and Paul Church that was built at the Peter and Paul Fortress in 1703, shortly after Peter the Great founded St. Petersburg. Italian architect Domenico Trezzini designed a Baroque masterpiece that ranks among the most beautiful churches in Russia. The cathedral was completed in 1733, and its original wooden spire was replaced with a metal one in 1858. The spire is crowned with a weather vane in the shape of an angel. It reaches a height of 122.5 meters (402 ft), and for centuries marked the highest point in the city.
Non-traditional Architecture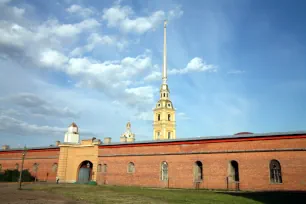 The most striking aspect of the Baroque cathedral's exterior is the tall spire of the bell tower, a striking contrast with the onion-shaped spires of the traditional Russian churches. The choice for a different architectural style was no coincidence, and symbolized Peter the Great's intentions on reforming Russia and bringing it closer to the nations in Western Europe. The ground plan is also different from traditional Russian-orthodox churches, with a long nave and two aisles instead of a Greek cross.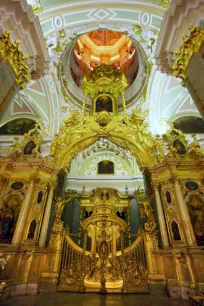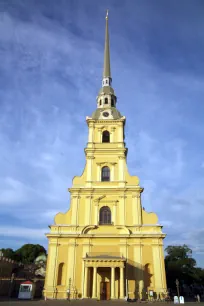 Interior
A portico leads visitors to the opulent interior of the cathedral, which also marked a departure from the classical architecture found in Orthodox Russian churches with its large vaults, ceiling paintings, chandeliers and marble Corinthian columns finished with gilded trimming.
The most remarkable work of art is the 30-meter-tall (98 ft) iconostasis, created in 1722-1729 by craftsmen from Moscow under the guidance of the Ukrainian master Ivan Zarudny. A total of 43 icons were incorporated in the elaborate Baroque masterwork, which shows a central triumphal arch, symbol of the victory of the Russian army in the Northern war.
Tombs of the Tsars
Despite all its opulence, the Peter and Paul Cathedral is best known as the last resting place of the tsars. When Peter the Great died in 1725 he was buried here, at the base of the belfry in the – then still uncompleted – church. All but three of his successors were buried here as well. The last one was Nicholas II, who, with his family, was executed without trial by the Bolsheviks in 1918. Their remains were transferred to the cathedral in 1998.
The sarcophagi are all created from Carrara marble, except for those of Alexander II and his wife, which were made of jasper and rhodonite, colorful minerals brought here from the Ural.