One of St. Petersburg's oldest structures, the Admiralty was created by Peter the Great and originally built as a dockyard. The building long housed the Admiralty Board, which was responsible for shipbuilding and later became part of the ministry of the Navy.
Building the Admiralty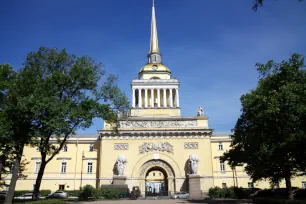 During the reign of Peter the Great, the tsar was obsessed with forming a strong navy. Because Russia only had one seaport in the far north, he believed it necessary to build another. Thus, the Admiralty began its life as a fortified shipyard in 1704.
When the shipyard was opened, it employed some ten thousand men, whose goal it was to produce an abundance of ships. It wasn't unusual to see Peter himself at the shipyard on various occasions, as he was considered a master shipbuilder, carpenter, and designer.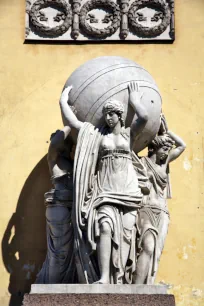 The Design
The Admiralty began as a fortified shipyard with four bastions at its corners and a moat. A tower and spire were added in 1711 and, in 1730, architect Ivan Korobov designed a new central gate and replaced the wooden structure with a new stone building.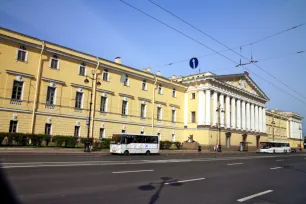 However, what visitors see today is the result of a design by noted Russian architect Adrian Zakharov, who was a professor at the St. Petersburg Academy of Arts.
Zakharov's Neoclassical redesign of the Admiralty took place between 1806 and 1823. While staying true to the original design, his Russian Empire design reflected the new pride of Russia. Rows of white columns and numerous statues, such as those of great military leaders, were part of the plan. A frieze portrays Neptune handing his mighty Triton to Peter. Other decorative features bore naval themes as well.
Today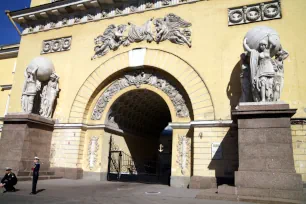 A visitor to today's Admiralty, unfortunately, won't see much of the original building and its decorative pieces. Many of the early statues were destroyed in 1860 when they were deemed "pagan" by the Orthodox clergy. (At that time, the Admiralty was home to the Ministry of the Navy and the Naval Museum; In 1925 the building became home to a shipbuilding school).
The structure also sustained much damage during the blockade of Leningrad and was continually bombarded by the Germans during World War II.
Nevertheless, the Admiralty building is still decorated with plenty of sculptures and reliefs. And its 73-meter (240-foot) golden spire, and its weather vane "little ship" that sits atop it, remains one of St. Petersburg's most recognizable landmarks. The weather vane, a replica of Peter's personal ship, is now a reproduction. The original is housed in the Naval Museum.