Sutro Heights is one of the most beautiful Bayside areas in the city. This was once the site of the magnificent Cliff House and the spectacular Sutro Baths, an enormous enclosed swimming pool complex.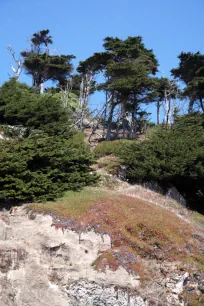 Sutro Heights Park
Situated in the Outer Richmond section of the city, Sutro Heights Park was originally the estate of Adolf Sutro, a nineteenth century entrepreneur, philanthropist and San Francisco mayor-to-be. In 1881 Sutro purchased 22 acres (9 ha.) at the edge of the city with amazing views of the ocean. He called his property Sutro Heights and established an ornate Italianate garden there that was open to the public. After Sutro Heights was handed over to the city in 1938, Sutro's estate was demolished and the area was converted into a public park.
Cliff House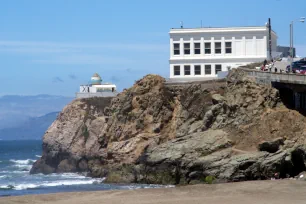 In 1881, Sutro bought the existing "Cliff House" hotel which sat below the property on Sutro Heights, easily viewed from his estate, hoping to restore this structure to a family-friendly venue. But after it burnt down a decade later, Sutro spent an abundance of money to create a new Cliff House, an amazing Victorian structure that was eight stories tall and boasted art galleries and elaborate dining rooms, not to mention incredible views. That structure survived the 1906 earthquake, but was consumed by fire a year later.
Unfortunately, the next replacement wasn't nearly as grandiose. Opened in 1909 and still in existence today, it's a basic structure that has long served as a restaurant. It was acquired by the National Park Service in 1977 and was renovated in 2002. It's still a favorite place to dine in the area, thanks to the stunning views of the Pacific and the Seal Rocks below.
Sutro Bath Ruins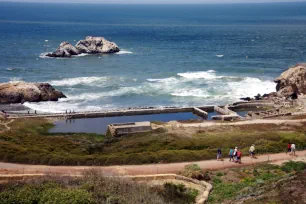 Head just north of the Cliff House, and you'll spy the ruins of the once-grandiose Sutro Baths. Built in 1896 by Adolf Sutro to the tune of $1 million, the baths were incredible. Guests entered through a Greek-inspired portal to a glass-enclosed area of seven swimming pools kept at various temperatures. There were also springboards, slides, trapezes, and a high dive for daredevils. High tides would fill the massive 1.7-million-gallon (about 64000 hectoliter) pools in just one hour and guests could rent bathing suits and towels and stay all day. Sutro called it "California's Tropical Winter Garden" and the complex could accommodate up to 10,000 visitors!
Fed by three railroad lines, the baths were a huge success in the beginning. Sutro soon added an expansive amphitheater as well as several restaurants to the complex. Art and natural history exhibits were also added.
But despite their initial popularity, the baths did not continue to be successful. Even though an ice rink and a few other additions were made in the early 1950s, the Sutro Baths soon closed and fell into disrepair. A fire in 1966 finished the job.
Today, the ruins of the Sutro Baths are a part of Golden Gate National Recreational Area and may be explored by visitors, who should exercise great caution when climbing through the remains. Visitors have been swept off by large waves and a few drowning deaths have occurred.