This former military base was originally built in the nineteenth century. It has now been converted to a unique center for the arts, education, and humanities.
What is It?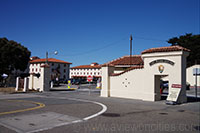 Fort Mason
San Francisco's Fort Mason Center, located amidst the historic piers and buildings of Lower Fort Mason in the city's Marina District, is a one-of-a-kind project that attracts both locals and visitors. The center, which is part of the Golden Gate National Recreation Area, houses about thirty non-profit organizations and hosts more than 15,000 conferences, meetings, exhibits, and arts performances each year.
Fort Mason, a designated National Historic Landmark, was created during the Civil War (1861-1865), when the army confiscated the terrain. In 1906, it provided shelter for victims of the earthquake and fire.
Later it became an embarkation port for soldiers and sailors headed for the Pacific during the World War II and the Korean Conflict. When it was closed in 1962, its 13 acres (5.3 ha) became absorbed into the Golden Gate NRA. In 1976, the Fort Mason Foundation was formed to organize a wide variety of programs for locals and visitors, and the Fort reopened the doors of its many buildings in mid-1977.
What You'll Find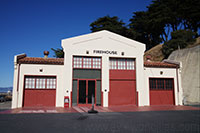 Firehouse
Nine Mission Revival-style buildings at Fort Mason house more than 300,000 square feet (28,000 sq. m.) of space for various events. Two of the center's piers are also used for major events, such as concerts, and an additional two pavilions hold a combined total of eight thousand guests.
In 1989, a new indoor theater – the Cowell Theater – opened as a state-of-the-art facility, seating 437 audience members for a variety of shows including presentations by world-famous dance troupes, multicultural concerts, and frequent appearances by the Pacific Chamber Orchestra.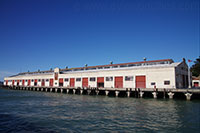 For visual arts lovers, Fort Mason Center hosts myriad annual art events, including frequent displays by some of the area's best artists. Guests can often meet and greet the artists and enjoy learning about their works firsthand.
Many non-profit organizations sponsor classes or workshops at Fort Mason, suitable for a variety of ages. Everything from Tai Chi to piano lessons to classes on real estate can be found here during the course of a week. Many are free and the others cost little.