Rome's ancient "shopping center" known as Trajan's Markets is remarkably well-preserved and worth a visit, if only for the insight it gives us into one aspect of the daily lives of Roman citizens.
The multifunctional complex was built as a complement to the Forum of Trajan and was a hub of activity for more than two centuries.
The Complex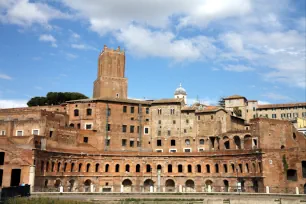 Trajan's Markets, a large complex of warehouses, shops and offices where the Romans would gather to purchase goods and conduct business, was built between 107 and 110 AD by Emperor Trajan's favorite architect, Apollodorus of Damascus. Apollodorus was integral in designing the famous forum, which bears the emperor's name and borders the market.
The complex was set into the side of Quirinal Hill and served to complete the Forum of Trajan. Apollodorus built a monumental, semicircular facade bordered by a row of columns. At both ends were smaller exedras that were covered by a half dome.
Tabernae
The upper levels of this semicircular brick and concrete market – which at one section had up to six stories – were used for offices, from where the whole marketplace was managed. Adjacent to these offices was a large warehouse.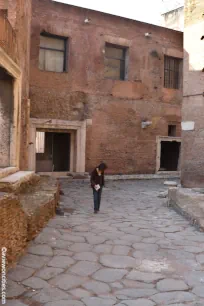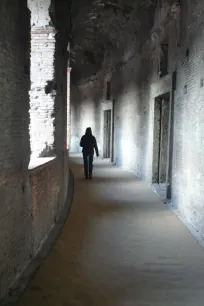 It were the lower levels, however, that were the center of activity. There, merchants sold a variety of goods to the average Roman citizen, including wine, oil, fruits, vegetables, and other grocery items. These shops were called "tabernae" and were barrel-vaulted cubicles with small windows and a large opening to the street. In total, there were more than 150 tabernae in the complex. They were often decorated with mosaics depicting the wares in the shop. Customers paid with special tokens that they bought before they started shopping.
Also in the lower part of the market was the so-called Great Hall, 32 meters long and 8 meters high. The hall was possibly used for concerts, speeches or education. The roof of the market was meant to create light and space – fashioned as an arched concrete vault that sat on piers to allow sunlight to seep through into the shops while still protecting the shoppers from the weather.
Preservation
The Markets of Trajan give us a good insight into Roman urban architecture, since it is one of the few high-rise structures that have been preserved.
Despite many years of neglect and damages sustained during the earthquake of 1349, the complex is still in relatively good condition. In 1574 the Convent of Santa Caterina da Siena was built over part of Trajan's Markets, but it was demolished between 1911 and 1914. Restoration of the complex was carried out under the Fascist regime from 1926 until 1934.
Today visitors can walk along the main shopping street, the Via Biberatica, or through one of the complex's corridors, along the rooms that once housed the tabernae.