Santa Prassede is a small church in Rome dedicated to Saint Praxedes, a daughter of the Roman senator Pudens. In the ninth century, the church was decorated with magnificent Byzantine mosaics.
The church is located just a stone's throw away from the much larger papal basilica of St. Mary Major.
The daughters of Senator Pudens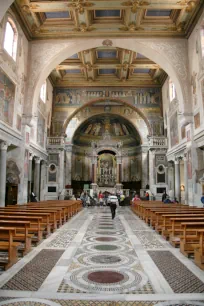 Pudens was a Roman Senator and early supporter of the Christians. According to legend, he lodged St. Peter and was martyred under Emperor Nero.
He is said to have had two daughters, Praxedes and Pudentia. However, there is no documentation about their lives and Pudentia has probably never even existed: her name was incorrectly derived from the term 'Ecclesia Pudentiana', Latin for 'the church of Pudens'.
The story goes that both Pudentia and Praxedes gathered and buried the bodies of hundreds of Christian martyrs. They each have a church dedicated to them: the Santa Prassede and the nearby Santa Pudentiana.
The Church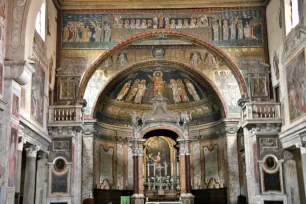 The church was built on top of a small chapel that held the remains of Praxedes and existed as early as in the fifth century. The church probably dates from the late eighth century, but it was only in the second decade of the following century that Pope Paschal I commissioned Byzantine artists with the creation of the mosaic decorations for which the church is now known.
A tomb, containing the remains of Bishop Giovanni Battisti Santoni, features a bust and several putti created by Bernini. It is considered Bernini's earliest known work and though the exact date of creation is not known, some believe the sculptor was just ten years old at the time.
At the end of the main nave, in the beautiful Cosmatesque floor, you can see a porphyry disc that marks the spot of a well where Praxedes buried Christian martyrs (2300 according to an inscription). She was later buried here herself.
Mosaics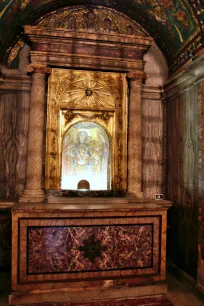 The church is primarily known for its Byzantine mosaics. The apse mosaic shows Christ accompanied by Saints Peter, Pudentia, Zeno on the right and Paul, Praxedes and Pope Paschal I on the left. The latter is shown with a rectangular halo, indicating that he was still alive when the mosaic was created. The two arches over the apse are also covered with mosaics showing angels and elders dressed in Byzantine robes.
Paradise Garden
There are more mosaics in the Chapel of Zeno, a small chapel situated near the side entrance. The chapel, which was built by Pope Paschal as the mausoleum for his mother, Saint Theodora. The walls and ceiling of the chapel are covered with mosaics depicting saints and figures from the bible. In the Middle Ages, pilgrims were so impressed that they called the chapel a "Paradise garden".