Anyone visiting Rome will sooner or later end up at Piazza Venezia. This square is located in the heart of Rome, at the end of the Via del Corso. From here it's only a short walk to some of Rome's most famous sights like the Capitoline Hill, the Roman Forum and the Pantheon.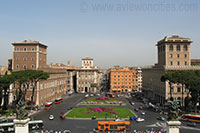 Piazza Venezia
Unlike several more pleasant Roman piazza's like the Piazza del Popolo or the Piazza Navona, chaotic traffic dominates the square. While you won't be able to relax here, there are some sights around the square worth visiting.
Il Vittoriano
The one landmark dominating Piazza Venezia is Il Vittoriano, a monument dedicated to King Victor Emmanuel II, the first king of Italy. The construction of the immense white marble monument – built on the side of the Capitoline Hill – in the early twentieth century completely changed the appearance of the square, which at the same time was drastically enlarged.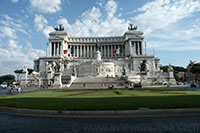 Victor Emmanuel II Monument
(Il Vittoriano)
Many historic buildings, including a convent located on the hill, were demolished. One building – the Palazzetto Venezia – was even moved so that it wouldn't obstruct the view of the monument from Via del Corso.
The Vittoriano monument has been rightly criticized for clashing with the existing architecture. But it is still worth a visit, if only for the magnificent views you have from the top.
Palazzo Venezia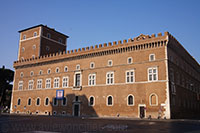 Palazzo Venezia
Looking down from Il Vittoriano towards Piazza Venezia, you can see the Palazzo Venezia on your left. The building that gave the square its name was built between 1455 and 1464 by cardinal Pietro Barbo who went on to become pope Paul II. It is one of the oldest civil Renaissance buildings in Rome.
The palace was used as a papal residence until pope Pius IV handed the building over to Venice, who used it as their embassy. In 1916 the Palazzo Venezia was acquired by the Italian government. Benito Mussolini used the building as his headquarter and addressed the people from the palace's balcony.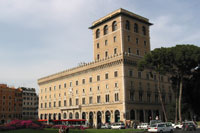 Palazzo Generali
The building is now home to the Museo del Palazzo Venezia, a museum with a collection of historic decorative arts, including tapestry, early Renaissance paintings, ceramics, suits of armor and sculptures.
Palazzo Generali
Directly across the Palazzo Venezia is the Palazzo Generali, built between 1906 and 1911 as a virtual copy of the Palazzo Venezia. The building replaced two palazzos that were demolished in 1900 for the expansion of the square.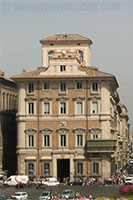 Palazzo Bonaparte
Palazzo Bonaparte
On the right of the Palazzo Venezia is another palace, the Palazzo Bonaparte. It was named after Letizia Bonaparte, mother of Emperor Napoleon I. After Napoleon Bonaparte's empire fell, pope Pius VII granted his mother asylum. She resided in this seventeenth-century palace until she died in 1836.