One of many beautiful squares in the city, the Piazza del Quirinale is located near the palace of the same name, which serves as the official residence of the president of Italy. At the center of the square stands the Dioscuri Fountain.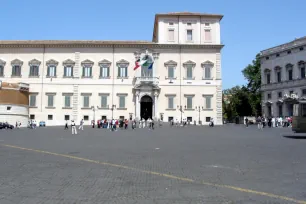 The Piazza del Quirinale and the Palazzo del Quirinale sit atop Quirinal Hill, the highest of the seven hills of Rome. From this highest point in the city, you have a splendid view towards the Saint Peter's Basilica.
Aside from the view, however, there are several things to be seen around the square, which boasts buildings on three sides and a clear view of the city down below from the fourth side.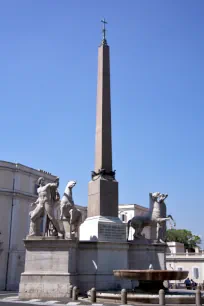 Obelisk and Fountain of Castor and Pollux
The first structure in the piazza that usually catches the eye is the huge obelisk with fountain that sits in the middle. This is known as the Dioscuri Fountain and features 5.5-meter-tall (18ft) sculptures of Castor and Pollux as horse tamers. These statues – Roman replicas of Greek originals from the fifth century BC – once stood at the entrance of the baths of Constantine. The 14-meter-tall (46ft) central obelisk once held a place of honor at the entrance to the mausoleum of Augustus.
The statues were placed here in 1588 by Pope Sixtus V. The obelisk was added in 1786 and the fountain's granite basin was added in 1818. The basin was designed by Rafael Stern who used an ancient Roman shell that once stood at the Roman Forum where it was used as a trough.
Quirinal Palace
After you've admired the fountain, look north, and you'll see the Quirinal Palace, the home of the president of Italy. Built in 1573 by Pope Gregory XIII as a summer residence for the papacy, it became the official royal residence after the unification of Italy in 1870 and later the presidential residence.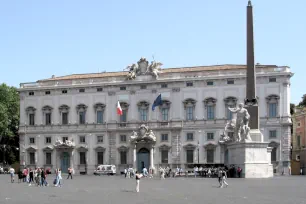 The facade visitors can see from the piazza was designed by Domenico Fontana, and the Great Chapel of the palace was crafted by Carlo Maderno.
Adjacent to the president's palace is the Palazzo della Consulta, built by Ferdinando Fuga in 1734 for Pope Clement XII and the Papal court. This ornately decorated palace is now occupied by the Corte Costituzionale, the Italian Supreme Court.
The third building flanking the square is the Palazzo Pallavicini-Rospigliosi, commissioned in 1603 by the Borghese family. Construction of this palace destroyed the remains of the Baths of Constantine. The last of many famous public bath complexes in ancient Rome was built at this site in the fourth century by Emperor Constantine I.