Piazza Barberini is a pedestrianized square, named for the adjacent Barberini Palace. Though the traffic around this piazza can get a little chaotic, the beautiful fountains located at the square are worth a visit.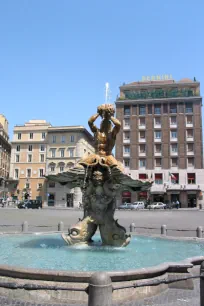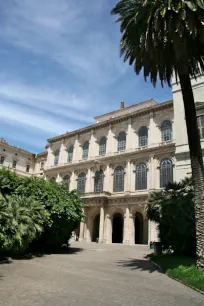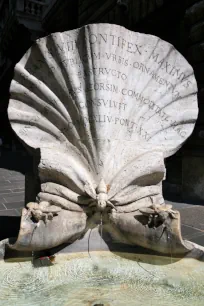 Located at the confluence of several busy Roman streets, Piazza Barberini was named for the aristocratic Renaissance-era family that made their home in the palatial estate located here, Palazzo Barberini. One of the Barberini sons eventually became Pope Urban VIII, which gave the family especially high status in seventeenth-century Rome.
Triton Fountain
The centerpiece of the Piazza Barberini is the Fontana del Tritone (Fountain of the Triton), built in 1643, and one of the many masterpieces of sculptor Bernini, who was a favorite of the pope and encouraged by the Barberini family. On the fountain, four fish hold an open clam upon which a Triton sits, blowing water from his horn. The heraldic symbols of Pope Urban VIII are clearly visible on the fountain.
Barberini Palace
Also along the square, guests can still visit the stately Palazzo Barberini (Barberini Palace), which is now home to the Galleria Nazionale d'Arte Antica (Museum of Ancient Art). Construction of the palace started in 1627 by architect Maderno who was assisted by his nephew Borromini. After Maderno died in 1629 construction was continued by Bernini, who completed the building in 1633. The palace now houses a wonderful collection of Renaissance and Baroque paintings. The entrance to the museum is around the corner, at Via delle Quattro Fontane 13.
Fountain of Bees
An additional Bernini fountain can be found near the Piazza Barberini, right at the foot of the uphill Via Vittorio Veneto. Entitled Fontana delle Api (Fountain of the Bees), this small fountain was built in 1644 as a tribute to Pope Urban VIII Barberini. The fountain features large bees, symbol of the Barberini family, and a clam-like structure, on which appears the name of Urban VIII and a Latin message stating the fountain's water is for use of the public and their animals.