Villa Adriana – an enormous countryside residence about 25 km./16 mi. from Rome – was the dream of the Emperor Hadrian. Today, the archeological complex is a UNESCO World Heritage Site.
Hadrian's summer residence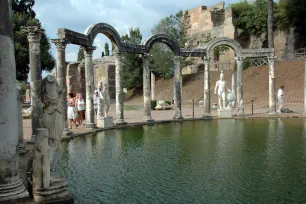 After having travelled to the eastern provinces of the Roman Empire, Emperor Hadrian was so impressed by the architecture of the Greek and Egyptians, that he wanted to create a summer residence with monuments resembling those he had seen during his time east.
The result was a spectacular estate where Hadrian could go to escape the pressures of his position. In just fifteen years, from 118 until 133 AD, the Romans built a palace, bathhouses, a theater, basilica, libraries, statues, pools, and plenty of room for staff and guests on an area about 120 hectares (300 acres) large. The palace was built on top of foundations of a building dating back to republican times, in an area near Tibur (now Tivoli), 25 km. (16 miles) northeast of Rome.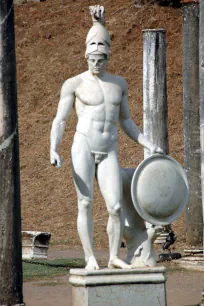 Servants lived in underground quarters so that visitors would never be able to see them. There were several large areas for banquets to entertain guests. And when Emperor Hadrian did not want to be disturbed, he could always retreat to one of the domain's most beautiful buildings: a private complex – known as the Maritime Theatre – which was located on an island and only reachable by a swing bridge. Here Hadrian could devote his spare time to his main interests: philosophy, painting and architecture.
Due to his interest in Greek architecture, many of the structures are said to be replicas of original Greek buildings, like the Stoa Poikile, a famous painted portico.
Today, only fragments of most of the domain's structures remain, scattered among trees and brush. Some of the buildings and statues have been partially reconstructed, and the most notable are marked with a sign. Guests can visit a scale model of the Villa Adriana in the parking area to better ascertain what they might be viewing.
The Buildings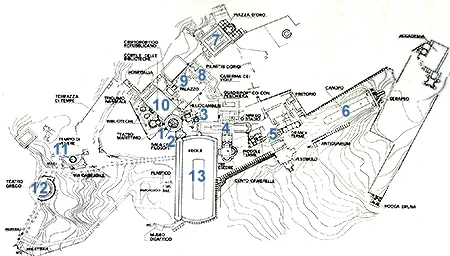 Below, a selection of buildings on the Villa Adriana domain. The numbers preceding the site corresponds with the number on the map above.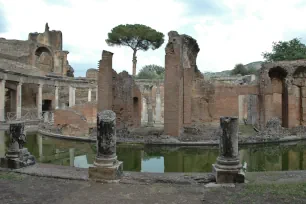 1 Teatro Marittimo – The Maritime Theatre was a circular building with a small dome. It was located on an island in the middle of a round pool. Surrounded by columns, the island was reached by a swing bridge and was said to be a favorite place of Hadrian. He escaped to the island to paint and enjoy other artistic activities, or to study.
2 Hall of Philosophers – This rectangular Greek-style structure is thought to have been a library.
3 Heliocaminus – A complex of baths with a large vaulted ceiling.
4 Nymphaeum Stadium – There are several nymphaneums – monuments consecrated to the nymphs – at Hadrian's Villa. One of them is at a large area thought to be a stadium.
5 Canopus – A replica of the sanctuary of the god Serapis near Alexandria, Hadrian's crew dug a 119-meter-long canal (130 yards) for this project and many statues were used to decorate the grounds.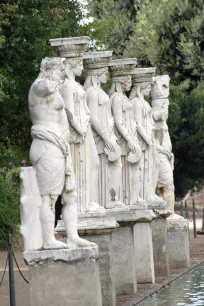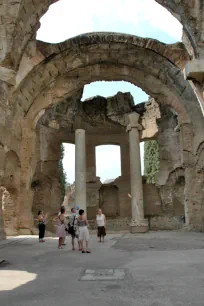 Today, this structure is one which has been partially restored.
6 Large and Small Thermae – Two large thermal complexes with a number of rooms for cold and hot baths.
7 Piazza d'Oro – A formal dining room often used for state affairs. Its name – which translates to Golden Square – can be attributed to the abundant decoration.
8 Hall of Doric Pillars – This was a basilica bordered by Doric pillars, hence its name.
9 Palace – The palace, the most important part of the villa, features a throne room, where the emperor would hold audiences.
10 Library Courtyard – This is the site where once stood a republican villa before Hadrian decided to build his summer residence. Two adjacent rooms might have been libraries, hence the name of the hall. However, some archeologists claim these rooms were dining rooms.
11 Temple of Venus – A small circular building with Doric columns.
12 Greek Theatre – this theater building could seat five hundred people.
13 Poecile – A large rectangular area (232 by 97 meters or 761 x 318ft.) with a large pond at the center and surrounded by colonnaded porticoes. The name is said to be derived from the Stoa Poikile in Greece, after which it is modeled.
Besides this selective list there were many other buildings and areas at this expansive estate such as a fishing pond, the 'hundred rooms', portals, storehouses and a large terrace.
Unfortunately, few of the buildings still stand, having been plundered numerous times and left to decay until excavations started in the sixteenth century. The site is so large even today not all buildings have been unearthed or identified. Many of the statues and other pieces excavated from the grounds of Tivoli are in museums throughout Europe, including the Vatican Museums and the Capitoline Museums.