The Fountain of Moses was the first of the many monumental fountains that were installed in the city of Rome after the Middle Ages. The fountain is named for the large statue of Moses that stands at its center.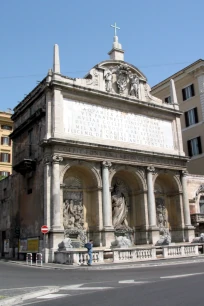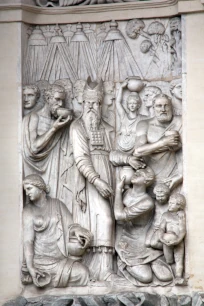 The fountain was installed on request of Pope Sixtus V to mark the completion of the Acqua Felice, an ancient aqueduct that had been restored in 1587 to provide the neighborhood with fresh water.
The fountain is officially named Fontana dell'Acqua Felice, after the pope, whose real name was Felice Peretti. The pope was instrumental in beautifying Rome with many public works, but in doing so he damaged many ancient monuments including the Colosseum and temples at the Forum Romanum, from which he obtained marble for the construction of the St. Peter's Basilica.
The Fountain
The Fountain of Moses was built in 1587-1588 by Domenico Fontana, who designed a blind triumphal arch with three large niches. In the central niche stands a large statue of Moses, flanked on either side by reliefs depicting biblical scenes.
In front of the large classical columns that frame the niches stand four water spouting lions. They are copies of Egyptian lion statues; the originals can be found in the Vatican Museums.
Above the niches is a large entablature with a Latin inscription that praises the achievement of restoring the ancient aqueduct. The monument is crowned with a swan's-neck pediment with at the center the papal coat of arms of Sixtus V flanked by two angels.
The Statue of Moses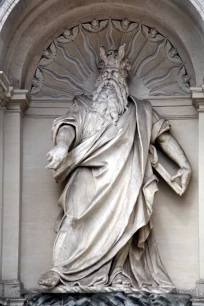 The central figure of Moses lends its name to the monumental fountain. The imposing statue was created by Prospero Antichi (also known as Prospero Bresciano).
According to local lore, the sculptor tried to measure up to Michelangelo, who created a statue of Moses in the nearby San Pietro in Vincoli church. But the sculptor made the mistake of not creating a model, and he carved the statue out of a block of marble that was lying on the ground instead of standing upright. As a result, its proportions were not correct. When the statue was revealed to the public it was ridiculed and Prospero Antichi is said to have committed suicide out of sorrow.
The story is probably exaggerating the events. It is however certain that the statue was ridiculed; the locals even called it 'Il Mosè ridicolo' – the ridiculous Moses. But historians now know that Antichi did not create the statue on his own, most of the work was likely done by Leonardo Sormani, who also finished the statue.