The Column of Marcus Aurelius was built between 180 AD and 193 AD as a gift by the Senate and the people of Rome to Emperor Marcus Aurelius. The column was erected near the emperor's own temple, the Temple of the Deified Marcus.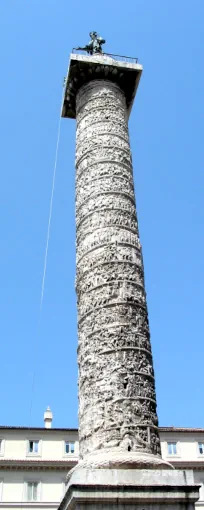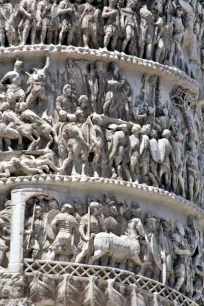 The monument – also known as the Aurelian Column – commemorates Emperor Marcus Aurelius's military campaigns against Germanic tribes and the Sarmatians, nomadic tribes who lived near the Black Sea.
It was modeled on the Column of Trajan, built eighty years earlier after Emperor Trajan's successful campaign in Dacia.
The Column
The Aurelian Column is about 29.6 meters tall (100 Roman feet) and formed of 28 blocks of Carrara marble. It rests on a large rectangular pedestal – at the time almost four meters high – and bears a spiraling band of reliefs depicting events during the imperial campaigns in the north. The lower part shows the campaign against the Marcomanni and Quadi (Germanic tribes) between 169 and 173 AD, and the upper part shows the campaign against the Sarmatians between 174 and 176 AD.
The reliefs are deeper and more expressive than those on the Column of Trajan, but they are also less refined and the compositions have a lower quality. Inside the column, which has a diameter of 3.7 meters, is a spiraling staircase with 201 steps that leads to a platform at the top on which a statue of Marcus Aurelius and his wife Faustina the younger used to stand.
The original statue disappeared in the sixteenth century. In 1589 Pope Pius V had a bronze statue of St. Paul on top of the column. The statue, which shows St. Paul holding a sword, was created by Domenico Fontana and complements the statue of St. Peter atop the Column of Trajan.
An inscription on the pedestal, engraved on request of Pope Pius V, incorrectly attributes the column to Antoninus Pius. Remains of that column were only discovered in 1705.
Piazza Colonna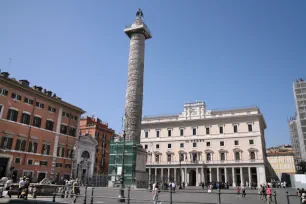 There are no traces left of the nearby Temple of the Deified Marcus, but the Column of Marcus Aurelius still stands at its original location. It is now at the center of a small rectangular square, the Piazza Colonna, which is named after the column.
The square is bordered by the Via del Corso on one side and palazzos on the other sides. Between the column and the Via del Corso stands a small fountain, built in 1575 by Giacomo Della Porta.