The Jindřišská věž (St. Henry's Tower) is a historic bell tower, first built in the fifteenth century. Renovated in 2001 the tower now features a restaurant and an observation deck where you can enjoy wide views over the city.
History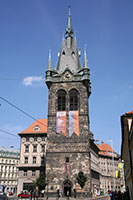 St. Henry's Tower
Standing at 65.7 meters (216 feet), the St. Henry Tower is the tallest freestanding bell tower in Prague. Its history goes back to 1475 when it was built in wood as the bell tower of the Church of St. Henry and Kunhuta (kostel sv Jindřich a Kunhuty), the parish church of New Town.
The current stone version was built at the end of the sixteenth century. The tower was damaged several times, first by the Swedes in 1648 and later by the Prussian army in 1757. And finally, a storm in 1801 destroyed the tower's roof.
The tower was restored in 1879 by Josef Mocker, who also renovated the Church of St. Henry and Kunhuta. Mocker gave both the church and the bell tower their current neo-Gothic appearance.
Inside the Tower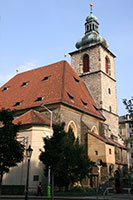 Church of
St. Henry & Kunhuta
The tower was once again restored in 2001. This time the outer walls were kept intact while the interior was completely modernized. The tower's ten floors can now be accessed via either a staircase or an elevator.
The top floor features an observation deck, from where you have a great view over the historic center of Prague. Right below, occupying the 7th to 9th floors, is a restaurant aptly named Zvonice (Belfry). The 6th floor is home to a small museum that highlights the history of Prague's more than one hundred towers. The tower also contains a café on the ground floor as well as a whiskey bar and two floors of exhibition space.
Carillon
The tower's original bells were confiscated during wartime and melted down, except for the oldest one, named 'Maria'. This bell was cast in 1518 and weighs 723 kg. It is now on display in the tower's restaurant.
In 2003 a carillon was installed in the tower with ten new, smaller bells cast by Petr Rudolf Manousek. The bells, nested in the tower's roof, are named after the many bells that were once in this tower but were lost or melted down. Every hour, the carillon plays one of more than one thousand preprogrammed tunes. Unlike with most carillons, the melodies can only be heard inside the tower.