Kranner's Fountain, also known as the Monument to Francis I, is a large Neo-Gothic memorial that was erected in the 1840s to commemorate Emperor Francis I of Austria (1792-1835).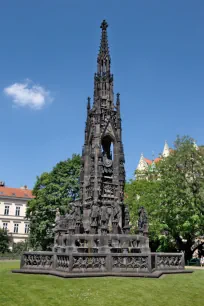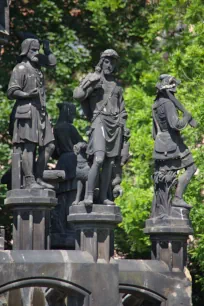 The monument is located in the Park of the National Awakening, a small park near the Smetana embankment along the Vltava River (Moldau).
Construction
Plans to erect a monument in honor of Emperor Francis I were launched a mere month after his death in 1835. After years of discussion, the monument was finally created in 1844-1846 by the Czech architect Josef Kranner, with the help of stonemason Karel Svoboda. The 26 statues that decorate the monument were the work of the German-Czech sculptor Josef Max. It would take another four years before the monument was officially unveiled on May 30, 1850.
Design
Kranner's fountain is designed as a Neo-Gothic structure with two balustraded tiers encircling a tall canopy that shelters an equestrian statue of Francis I.
The bottom tier consists of a low plateau in the shape of an eight-pointed star surrounded by a balustrade that acts as a shallow pool. Water cascades from the central base of the canopy into a basin on the second tier and then into the pool.
On the outside of this second tier are pedestals that support allegorical statues of sixteen Czech regions. Another statue, at the front of the monument, represents Prague. In the center, against the four pillars that support the main canopy, stand another eight allegorical statues, each under a small canopy of their own. They symbolize Science, the Arts, Trade, Agriculture, Mining, Industry, Peace and Abundance.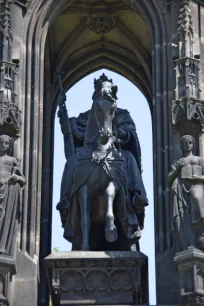 The equestrian statue at the center measures 291 centimeters in height (almost 10 feet). Above the four arches of the central canopy four reliefs can be seen with crests representing regions under the reign of the emperor.
Political Symbol
The monument / fountain was a symbol of the Habsburg power and was much disliked by Czech nationalists. After the foundation of Czechoslovakia in 1918, the statue of Emperor Francis I was removed and stored in the Lapidarium. It was only in 2003, long after the dissolution of Czechoslovakia that a plaster copy of the statue was installed in its place. The original statue is still on display in the Lapidarium.