A tribute to Philadelphia's large Irish population, the Irish Memorial remembers those who died in the Irish famine of the nineteenth century.
The Memorial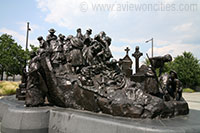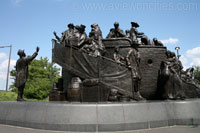 Irish Memorial
Opened to the public in October 2003, Philadelphia's Irish Memorial sits near the waterfront at an area known as Penn's Landing at Front and Chestnut Streets. Built at a cost of $3 million and marking the sesquicentennial of the Irish Starvation of 1845-1852, when approximately one million Irish died, much of the money for this memorial came from donations from private parties and civic organizations with some help from the local government.
About the Sculpture
The artist chosen to design the memorial was Glenna Goodacre, the same woman who designed and sculpted the Vietnam Women's Memorial that sits in the nation's capital.
For her design, Goodacre chose to sculpt 35 life-size figures, huddled together to form a bronze piece that measures about 24 feet long by 12 feet high by 12 feet wide (7 x 3.5 x 3.5 m).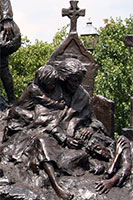 Detail of the sculpture
The east end of the sculpture depicts the dark days of the famine, strewn with Irish crosses denoting the death of many Irishmen in their native land. The opposite end resembles a ship and signifies the arrival of the hopeful Irish at the docks of America. The expressions on each face are extremely realistic and evoke feelings of despair, longing, and hope.
Location
The memorial is situated at the center of a 1.75 acre (71 are) spot overlooking the Delaware River. The location was chosen because it is the place where many immigrants arrived in Philadelphia, including a large number of Irish citizens. It is also within walking distance of Independence Hall, another consideration when choosing the site.