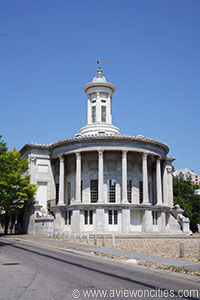 Quick Facts
| | |
| --- | --- |
| City | Philadelphia, PA |
| Country | United States of America |
| Year | 1832 - 1833 |
| Floors | 3 |
| Height | 17.4 m / 57 ft |
Realization
| | |
| --- | --- |
| Architect | William Strickland |
| Developer | Philadelphia Exchange Company |
| Construction cost | 159 435 USD |
Building Info
| | |
| --- | --- |
| Address | 143 South 3rd Street at Walnut and Dock Streets |
| Materials | marble |
| Style | Greek Revival |
| Status | Completed |
Notes
The building was in use as an exchange until the Civil War.
Purchased by the National Park Service in 1952.
Designated a National Historic Landmark in 2001.
The tower was inspired by the Choragic Monument of Lysicrates in Athens.
The roof is at a height of 45 feet and 6 inches (13.87 meters); 57 ft. (17 m.) to the top of the pediment.