The magnificent late-Gothic Tour St-Jacques (St. James's Tower) is the only part that remains of an old sixteenth-century church.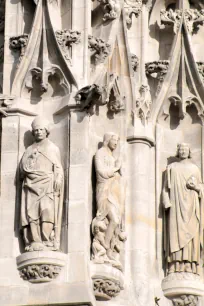 History
Located in Paris' IVe arrondissement, Tour St-Jacques was once part of a church known as Saint-Jacques-la-Boucherie (literally, Saint James the Butcher). It was the patron church of butchers and was frequented by the wealthy wholesale butchers that sold their goods at the nearby Les Halles market. Pilgrims used the church to meet before embarking on their long journeys.
The church was built between 1509 and 1523 and was named for St. James the Great. (A statue of the saint was placed atop the tower in the nineteenth century.) In 1793, during the French Revolution, the church – like many others – was demolished, leaving only the tower, which is now considered a national historic landmark.
In the mid-1800s, the tower was restored by the architect Théodore Ballu. At that time, it was raised onto a pedestal and a small park was built around it. Putting the tower on a pedestal allowed it to retain its original height despite the absence of the remainder of the church.
The tower was designed in the Flamboyant Gothic style and, indeed, it is quite ornate, full of crockets and plenty of niches that hold a variety of statuary. The tower stands 52 meters tall (about 171 feet).
Pascal's Lab
In the mid-seventeenth century, mathematician and physicist Blaise Pascal chose to use Tour St-Jacques as his laboratory, where he conducted a variety of experiments on atmospheric pressure.
In tribute to Pascal, a statue of the scientist stands at the base of the tower and a number of meteorological instruments were placed on the roof.
Renovations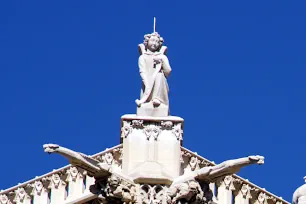 There has been much concern about the state of the stone from which Tour St-Jacques is built, and the tower had been covered with scaffolding for nearly five years in the 2000s while experts were examining the condition of the stone. They discovered that most of the stone came from the original structure and was not added when the tower was restored in the nineteenth century.