It took more than a century and six architects before the monumental St. Sulpice church was completed at the end of the eighteenth century. The church, located in the heart of Paris's popular 6th arrondissement, dominates a pleasant square.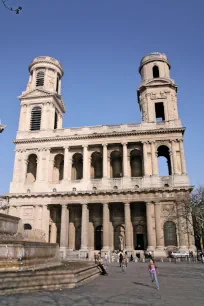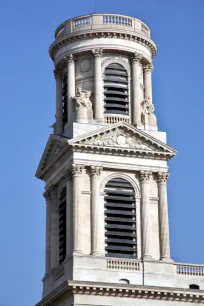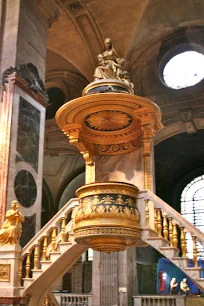 Construction
Construction started in 1646 at the site of a thirteenth century church. Twenty years later, a lack of funds halted construction work. It would last until the early eighteenth century before construction resumed, and finally in 1780 the church was mostly completed.
The Church
The building is impressive, and with a length of 119 meters and a width of 57 meters (390 x 187 ft.) it is the second-largest church in Paris after the Notre-Dame.
The imposing front facade was built after a 1732 Baroque design by Giovanni Servandoni. It is defined by two large colonnades with Doric and Ionic columns. The colonnades are flanked by two asymmetrical towers, possibly a result of the long construction period. The south tower, which was never completed, is five meters shorter than the north tower and has a slightly different design. Servandoni's plan also included a large ornamented pediment and tower cupolas, but these were never implemented.
Interior
The Saint-Sulpice church has one of the world's largest organs, built between 1776 and 1781 after a design by Jean Chalgrin, who is best known as the architect of the Arc de Triomphe. The gilded pulpit of the Saint-Sulpice was designed in 1788 by Charles de Wailly.
Another highlight can be found in the Chapelle des Anges (Angel Chapel), where Eugène Delacroix created impressive wall paintings, entitled 'Jacob Wrestling with the Angel' and 'Expulsion of Heliodorus from the Temple'.
Place St. Sulpice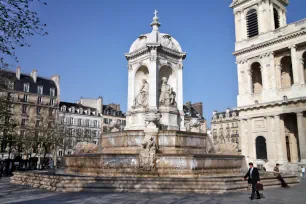 The front facade of the Saint-Sulpice church overlooks a pleasant square, laid out in the 18th century and named Place St. Sulpice after the church.
The central fountain – the Fontaine des Quatre Points Cardinaux – was designed in 1844 by Joachim Visconti and shows four seated bishops who never became cardinal. Hence the name of the fountain, which can be translated as the Fountain of the Four Not Cardinals.