Hôpital St-Louis is a historic hospital complex that was built in the early seventeenth century. The hospital is still in active use today, but visitors are allowed to enter the courtyard.
Isolating Plague Patients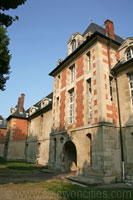 Pavilion of the
Hôpital St-Louis
After the deadly bubonic plague broke out in Paris in 1605, the medieval hospital Hôtel-Dieu near the Notre-Dame Cathedral was overwhelmed with patients. The patients who suffered from the highly contagious disease threatened to infect the other patients, so King Henri IV decided to build a new hospital outside the city wall where the plague patients could be treated in isolation.
The first stone was laid in 1607 by the king himself, and the hospital was completed four years later. The complex was expanded in the nineteenth and twentieth centuries, but the original buildings are still intact. Today the historic buildings are mostly used for administrative purposes, while the actual hospital moved to an adjacent, more modern complex.
The Buildings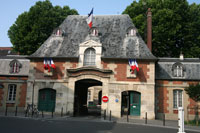 Guardhouse
The four wings of the hospital each measure one hundred twenty meters long and enclose a rectangular courtyard. Around these wings, which housed the patients, was a buffer zone, about forty meters wide. At the corners of this zone were four buildings for the personnel of the hospital. The complex was completely walled-in so that the patients would not come into contact with outsiders. Personnel could only enter the hospital from a guardhouse, which still serves as the main entrance for pedestrians. The only building that was accessible from the outside was the chapel, so that people living in the vicinity could attend services.
Architecture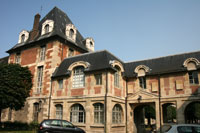 Hôpital St-Louis
The hospital was built by Claude Vellefaux. He probably based his design on plans made by Claude Chastillon, an architect who is best known as the designer of the magnificent city hall. The architecture of the hospital is much more restrained, but it is also beautiful in its simplicity and harmony.
The buildings are constructed in a pattern of stone and brick, very reminiscent of the architecture of the Place des Vosges, by many considered Paris's most beautiful square. In fact, the whole ensemble is very similar to that of the Place des Vosges; here too are projecting pavilions with archways that give entrance to a central courtyard and here, too, the buildings have steep slate roofs. This is no coincidence: both projects were realized around the same time.