Named for the cemetery originally located at the site, the Fontaine des Innocents (Fountain of the Innocents) is a beautiful Renaissance structure that is certainly worth a detour if you're in the vicinity.
Cemetery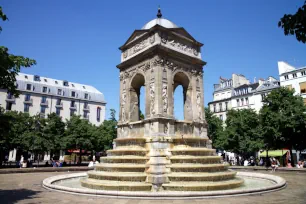 The Cimetière des Saint-Innocents was already a graveyard during the Roman times. During the Middle Ages it was located inside the city walls, situated close to the marketplace at Les Halles, now the site of the Forum des Halles.
Since the graves were routinely vandalized by pillagers and dogs who dug up the bodies, King Philippe-Auguste decided at the end of the twelfth century to build a stone wall around the graveyard. The cemetery was in use until 1780 when it was closed for sanitary reasons.
The name of the cemetery was derived from the nearby church, the Église des Innocents (Church of the Innocents). The church was named after the Massacre of the Innocents, a biblical event.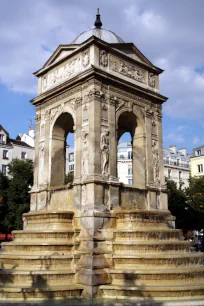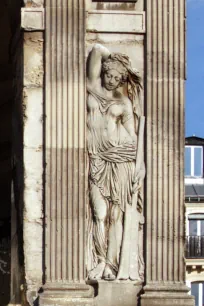 The Fountain
The fountain was designed by French architect Pierre Lescot, a prominent Renaissance architect who for much of his life worked on the Louvre Palace. Sculpted by architect Jean Goujon, the fountain was created between 1546 and 1549.
It was built into a wall at the intersection of Rue St. Denis and Rue au Fers (now Rue Berger). The French Mannerist sculptor would become the official Sculptor to King Henry II in 1547. Besides the fountain, Goujon's most famous works include the sculptural decorations designed for the western extension of the Louvre in the 1550s.
As part of the design of the last remaining Renaissance fountain in Paris, Goujon sculpted Henry II's Coat of Arms and the first letter of his name on the fountain.
The nymphs that Goujon included on each side of the Fontaine des Innocents are typical of the Mannerist style – tall and thin. Angels decorate the arch, as do traditional "putti" – naked, plump little boys with wings – very common in Renaissance and Mannerist works.
Relocation
In 1788, it was decided that the Église des Innocents and accompanying cemetery were to be replaced by a market. The fountain was saved by relocating it to the center of the newly created square, known as the Square des Innocents.
After the relocation, a fourth side was sculpted by Augustin Pajou to match the existing sides, as previously there were only three sides because the fountain was set into a wall.
The fountain we see today is the result of a renovation in 1856 when the fountain was placed on top of six basins along which water cascades down.