St. Louis Cathedral is possibly the most photographed building in New Orleans, as the eighteenth century church forms a postcard-perfect backdrop for Jackson Square, the city's most popular public space.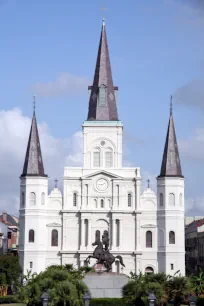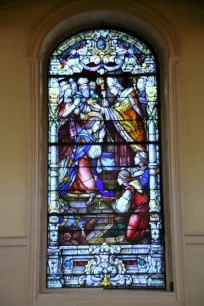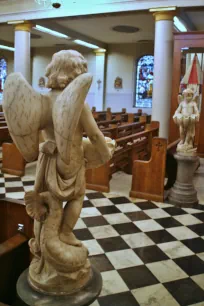 A history of rebuilding
A first church was built here as early as in 1718, even before the street grid of the French Quarter was laid out. In 1722 a hurricane destroyed the church, and a larger version was built in 1727. This church burned to the ground during the Great fire of 1788 and construction of a new church started in 1789. At the time of its completion in 1794, the church was dedicated as a cathedral. Funds for the construction were provided by the wealthy merchant Don Andres Almonaster y Rojas, who also made the construction of the adjacent Cabildo and Presbytere possible.
Expansion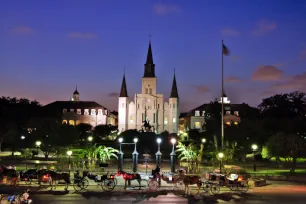 The church's current appearance stems from 1851, when it was enlarged and renovated after a design by the Louisiana architect De Pouilly. The domes on the three towers were replaced by tall spires, a new portico was built, the original neoclassical pediment was replaced with an open pediment and pilasters were added to the front façade. The church, now designated as a basilica, was also widened and made significantly longer. The widening was not planned but a result of the collapse of the side walls during construction work.
St. Louis
The cathedral is dedicated to Saint Louis, King of France from 1226 until 1270. The zealously devout king, who was known as King Louis IX, went on two crusades, and he was canonized shortly after his death. Many places have been named after him, including the French colony of Louisiana, several cities (most notably St. Louis, MO), and numerous churches.
Interior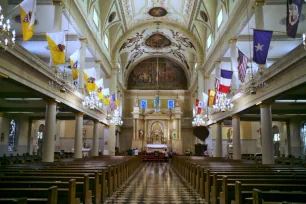 Many of the interior decorations refer to the saint, including ten colorful stained-glass windows that narrate the story of his life. A large mural above the altar shows the king announcing the 7th Crusade.
It's worth looking up when inside, some of the church's most magnificent decorations can be seen on the ceiling of the central nave, where paintings depict biblical scenes. Flags hanging from the balconies on the northeast side represent countries that New Orleans has been under since it was founded in 1718. Opposite are more flags, which among others show the papal crest and the coat of arms of the basilica.