The Old Ursuline Convent was built in the mid-eighteenth century for the Ursuline nuns, who arrived from France to provide medical and educational assistance to the early inhabitants of the fledgling French colony.
The city's oldest building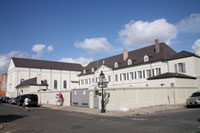 Old Ursuline Convent
The Old Ursuline Convent is the oldest building in New Orleans, and possibly in all of the Mississippi Valley. It was built between 1745 and 1750 at a site on the edge of the French Quarter. It replaced an earlier building that was erected in 1732, shortly after the arrival of the nuns in New Orleans.
The Old Ursuline Convent escaped the destruction caused by the Great fire of New Orleans in 1788, when almost eighty percent of all buildings in the French Quarter were destroyed.
Ursulines
The convent was founded by the Ursulines, a Roman Catholic religious order. The first twelve Ursuline nuns arrived from France in New Orleans in 1727 where they founded a hospital, an orphanage and a school.
In 1824 the Ursulines moved to a new location and donated their domain to the archbishop of New Orleans, and for a short while it became the residence of the Bishops. Later the convent was used as a parish complex and served as a school for a while before it became the seat of the state legislature.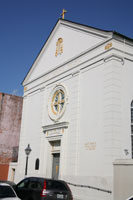 The Chapel
The complex
The convent was designed in a typical French colonial style and is considered one of the most beautiful examples of early French colonial architecture. Visitors can enter the complex via a porch, which gives access to a walled-in garden with a formal French layout and decorated with statues of saints. Inside are displays on the history of the convent as well as some religious artifacts.
The adjoining St. Mary's Chapel, officially known as Our Lady of Victory, was built in 1846, well after the nuns had left the convent. The interior of the chapel is decorated with mural paintings, stained glass windows and a Baroque altar.