Harmony Circle is a traffic circle in the warehouse district of New Orleans. Until 2017 it was dominated by a large monument that honored general Robert E. Lee, commander of the Confederate army during the Civil War.
History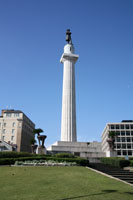 Harmony Circle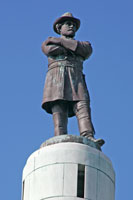 Statue of Robert E. Lee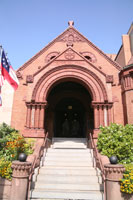 Civil War Museum
Harmony Circle was originally created in 1807 as part of a grand – but mostly unrealized – plan by architect Barthélémy Lafon to develop a new neighborhood. At the time it was known as the Place du Tivoli (Tivoli Square) and encircled by the water of the Tivoli Canal.
In 1877, just twelve years after the Civil War, it was rededicated as Lee Circle in honor of Confederate general Robert E. Lee. The square – now a busy traffic circle – was renamed again in April 2022, five years after the removal of the general's statue. The traffic circle is now known as 'Harmony Circle'.
Robert E. Lee Monument
The monument honoring the general was inaugurated in 1884. It showed a 12-foot-tall (4 m.) statue of general Lee on top of a 60-foot-tall (18 m.) Doric column, which was set on a rectangular base built on a mound at the center of the traffic circle. Four wide stairways flanked by decorative urns lead to the monument.
Lee, who led the Confederate troops during the Civil War against the northern Union army from 1862 until the capitulation of the Confederates in 1865, was shown standing towards the north, as if to defy his adversaries. The statue was sculpted by Alexander Doyle, while John Roy created the marble column. The statue was torn down in May 2017.
Museum District
Harmony Circle is a great starting point for a visit to many of the nearby museums and galleries. The Ogden Museum of Southern Art and the Confederate Museum – the oldest museum in Louisiana – are nearby, and the expansive World War II Museum is just a block away. Also in the vicinity is the New Orleans Contemporary Arts Center.