The Moon Walk is a riverside promenade that was created in the 1970s along the Mississippi River. It is popular with tourists who watch the many boats passing by or listen to one of the street musicians.
History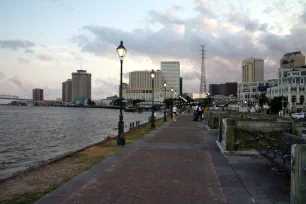 When Jackson Square was first laid out in the 1720s, it looked out over the Mississippi River. In the second half of the nineteenth century, after the disastrous floods caused by a Mississippi levee failure, the original eighteenth century 3ft (one meter) high levee protecting New Orleans from flooding was heightened several times, creating a barrier between the city and the river. During the twentieth century, much of the riverfront was dedicated to industry and commerce and port authorities even erected barriers, making the riverfront inaccessible for decades.
The Moon Walk
This changed in 1976 when a promenade was constructed along the Mississippi River, which once again made the riverfront accessible from the French Quarter. The project was named for mayor Maurice "Moon" Landrieu, during whose tenure the promenade was built.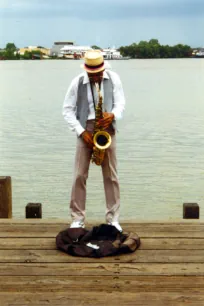 Despite still being separated from the city by a concrete flood barrier, parking lots and train rails, the promenade is a great spot where visitors can walk right near the mighty Mississippi River. It's become a popular place for visitors who come here to enjoy the view and escape the humidity of the city; thanks to a constant breeze, the air feels a lot fresher and cooler here.
You can rest on one of the many iron benches while people watching or boat spotting. The port of New Orleans is one of the largest in the US and the Mississippi is heavily trafficked with all kind of vessels ranging from historic paddle steamers to huge container ships and cruise ships. The Moon Walk is also a popular place for street performers, and chances are you'll see jazz musicians playing in return for some donations.
Washington Artillery Park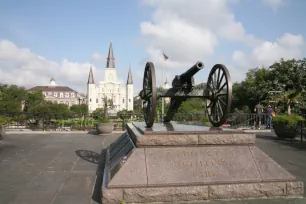 You can reach the Moon Walk from Jackson Square via Washington Artillery Park, a small park with an elevated plaza. The park honors the 141st Field Artillery of the Louisiana National Guard, originally founded in 1838. The plaza, with a Civil War cannon at its center, offers a great view over Jackson Square and St. Louis Cathedral. At the foot of the elevated plaza is an open air auditorium, facing Jackson Square. From here spectators can watch street performers who often perform acrobatic tricks here.