Lafayette Square is a public square created in the late eighteenth century in the Faubourg St. Mary, an area just south of the French Quarter. The square is surrounded by civic buildings and decorated with several statues.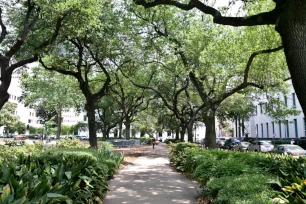 Lafayette Square was laid out in 1788 as Place Gravier at a site owned by Bertrand Gravier. After the purchase of Louisiana in 1803 it became the central square of the Anglo-speaking part of the city and was long the center of political life in New Orleans. The square was renamed in 1824 in honor of Marquis de Lafayette, a French aristocrat who served as a general at the side of George Washington during the American Revolutionary War.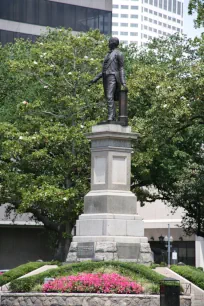 Statues
The focal point of Lafayette Square is the bronze statue of Henry Clay. It was created in 1863 by the American sculptor Joel T. Hart and installed at the intersection of Canal Street and St. Charles Avenue. In 1900, it was moved to its current location to make way for the street car lines and increasing car traffic. The statue honors Henry Clay, a prominent statesman who narrowly lost the presidential elections of 1845.
In front of the Gallier Hall stands a bust of Benjamin Franklin, one of the founding fathers of the United States. It was created around 1860 by the Neoclassical sculptor Hiram Powers.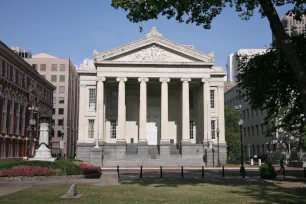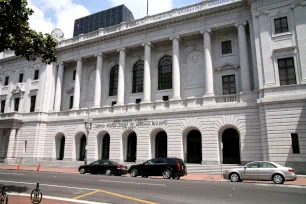 At the other side of the park stands another bust, created in 1898 by Attilio Piccirilli, an Italian-born sculptor who is now best known for his Maine monument at Columbus Circle in New York City. The bust portrays John McDonogh, an entrepreneur and – despite being a slave owner – an abolitionist. McDonogh left a large part of his fortune to the city of New Orleans for the creation of public schools; his statue was paid for with donations from schoolchildren.
Gallier Hall
Lafayette Square is bordered on all sides by large administration buildings and courthouses.
The most remarkable building is the Gallier Hall, a magnificent structure built between 1845 and 1853 after a Greek Revival design by American architect James Gallier Sr. It served as the city hall of New Orleans until 1957, when the new city hall at Perdido Street was inaugurated.
Court of Appeals building
Opposite Gallier Hall stands the John Minor Wisdom United States Court of Appeals building, completed in 1912. It was designed by Hale and Rogers, an architectural duo from New York who created a large building in Beaux-Arts style with a colonnaded front façade.