Montreal's magnificent Basilique Notre-Dame (Basilica of our Lady) is a stunning example of the fine ecclesiastic architecture of the nineteenth century.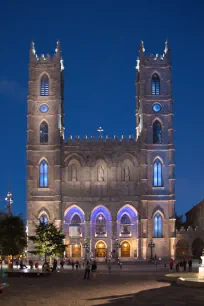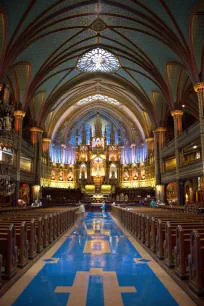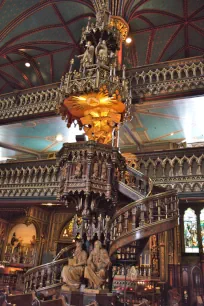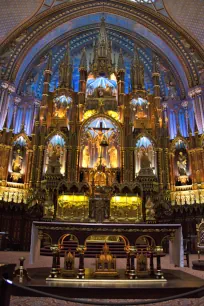 Building the Basilica
Plans for the Notre Dame Basilica were created in 1824. The architect chosen for the job was an Irish-American named James O'Donnell, who also happened to be a Protestant. O'Donnell had just completed Christ Church in Manhattan and the First Presbyterian Church of Rochester, NY.
According to records, it took two years to erect the walls of the basilica and the facade up to the base of the towers. By 1827, the wooden framework was completed and the vaulting and original interior were finished two years later.
O'Donnell was a leader in the Neo-Gothic movement, and the basilica certainly reflects his preferences. The building is not in the shape of a cross, but rectangular. The towers are contained within this rectangle, which is contrary to the custom, which usually kept the towers separate from the facade. The decorative elements are incredible. Much of the interior is carved from rare woods – which are gilded or painted, and large rose windows let in the muted light.
Just before completing his masterpiece, O'Donnell was so overwhelmed by his creation that he converted to Catholicism on his deathbed and was granted the privilege of being buried in the crypt – the only person ever to receive this honor.
More Details
One of the most famous names ever to work on the interior of the basilica was the architect Victor Bourgeau. From 1872 to 1879, he tended to the church's main altar, which was carved from linden wood. The altar was later replaced by a 32-panel altar cast in bronze and fashioned by another Montreal architect, Charles Daudelin.
The amazing stained-glass windows in the Basilique Notre-Dame depict the history of Ville-Marie (the original name for Montreal) and were imported from Limoges, France.
The sky-blue color of the walls is unusual, but provides visitors with the startling feeling of being out in the open under a clear sky. Sculptor Henri Bouriché produced the large statues and reliefs for the main altar and created the reredos (altarpiece screens) that were designed by Bourgeau.
The eastern tower holds a ten-bell carillon and the opposite tower is home to an immense twelve-ton bell that has come to be known as «Le Gros Bourdon» (the large bumblebee), rung for special occasions. The organ, designed by French organ maker Casavant, is exquisite and often heard in-concert.