On the northeast side of Trafalgar Square is one of London's best-known churches: St. Martin-in-the-Fields. The design of the eighteenth-century church has had a profound impact on ecclesiastical architecture around the world.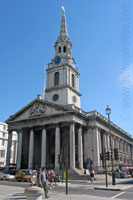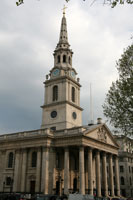 St. Martin-in-the-Fields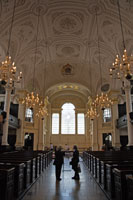 Interior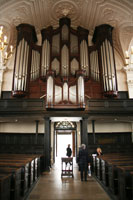 Organ
A church already stood at this site in the early thirteenth century. It was rebuilt in 1542 under the reign of Henry VIII. Today St. Martin-in-the-Fields sits at one of the most crowded squares in London but at the time this was the parish church of a large rural area, with plenty of grassland and fields, hence the name of the church. The present church was built between 1721 and 1726 to replace the derelict medieval church.
The Design
The church was designed by the Scottish architect James Gibbs, who had worked in Rome for the esteemed architect Carlo Fontana.
Gibbs was the first to successfully combine a Palladian temple front with a medieval-style church steeple. The steeple is well in proportion with the magnificent Corinthian portico. At first Gibbs's design was quite controversial, but it soon became the model for many other churches, in particular in the British colonies in North America.
The interior is noted for the beautiful plasterwork decoration on the barrel-vaulted ceiling, the work of Giovanni Battista Bagutti and Chrysostom Wilkins. Outside, take a close look at the beautiful church tower – clearly inspired by the steeples of Christopher Wren. But the star is really the monumental portico. Its pediment is supported by eight massive Corinthian columns. On either side of the church are two more columns, creating the impression of a portico that wraps itself around the church.
Royal Connection
St. Martin-in-the-Fields is the official parish church of Buckingham Palace and St James's Palace; George I was even churchwarden here. You can see several references to this royal connection in and on the church: to the left of the main altar is the royal pew, and the royal coat of arms of the United Kingdom embellishes the ceiling. The large relief on the pediment also shows the royal coat-of-arms.
The Crypt
There's usually little activity in crypts, but the crypt underneath St. Martin-the-Fields is quite different: there's a restaurant – the 'Café in the Crypt' – and a souvenir shop. The crypt, accessible from the north side, is also used to hold temporary exhibits of modern art. It is also the place where – for a small fee – you can try brass-rubbing, an activity that was popular in Victorian times, when people traced brass ornaments with a crayon and paper. They kept the paper reproduction as a souvenir. The church has a collection of over one hundred replicas of brasses.