Harrods is London's most famous department store. The luxurious store is on many tourists' itineraries, who come to admire the magnificent interior and enormous selection. They often leave the store with a signature green bag; foreign visitors account for a significant part of the store's sales.
History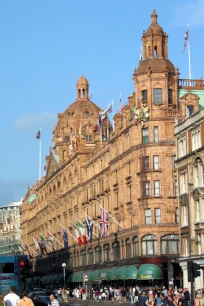 The history of this famous luxury store goes back to 1849 when Charles Henry Harrod opened a grocery at Brompton Road in Knightsbridge, at the time a small village just outside London. Just two years later, the Great Exhibition of 1851, which took place at Crystal Palace in nearby Hyde Park, brought many visitors to the area. Knightsbridge and Harrod's new store boomed.
Charles Harrod's son (also named Charles) took over and quickly expanded the store, at the time known as 'Harrods Stores'. The department store became well known for its high quality products and excellent personalized service.
In 1894 Harrods was taken over by Richard Burbridge who had the store completely rebuilt. He also installed London's first escalator, in 1898. The current building was also commissioned by Burbridge. The impressive domed structure was built between 1901 and 1905 after a design by local architects C. W. Stephens and E. J. Munt.
The Department Store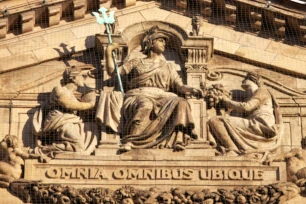 Harrods is one of the world's most famous stores and one of London's tourist attractions thanks to the wide assortment of luxury goods that are on display in a magnificently decorated building.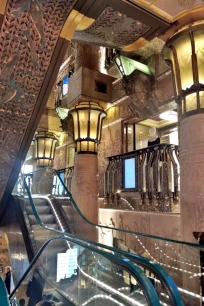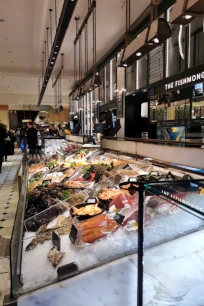 The enormous array of products is particularly impressive. The company's motto – engraved on the building's pediment – is Omnia, Omnibus, Ubique (Everything, for everyone, everywhere). Harrods used to be known as the store where anything you could think of was for sale. While this may not be the case anymore, the assortment is still enormous. You can purchase anything from historic eighteenth-century dinner plates or exquisite caviar to giant teddy bears.
It is best to take your time for a visit to the large store, which covers an area of about 80,000 square meters spread out over seven floors. Floor plans are available near the entrances. One of the most beautiful departments of the store is the magnificent Food Hall on the lower floor, decorated with tiles created by artist Williams James Neatby. Other impressive departments include the Egyptian Halls and the Crystal Rooms. Also of note is the central escalator, decorated with Egyptian motives. And don't forget to visit the toy department – the city's best – where you'll find enormous stuffed animals.
Knightsbridge
The success of Harrods attracted a number of other entrepreneurs to Knightsbridge, resulting in an upscale shopping district. Nearby are luxury stores such as Harvey Nichols and Burberry. Sloane street, one of the most famous shopping streets in London, is just around the corner.