Cleopatra's Needle is an authentic Egyptian obelisk in London. In the early nineteenth century, the more than three thousand-year-old obelisk was transported to London from its original site in Egypt.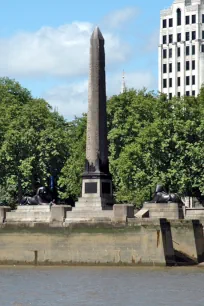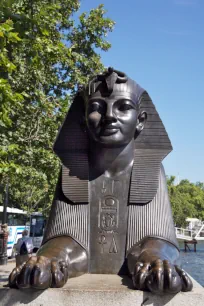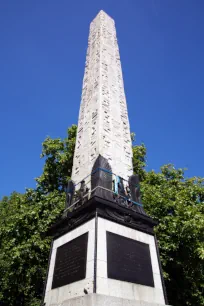 One of Three
There are three obelisks known as 'Cleopatra's Needle': the first one was installed in Paris at the center of the Place de la Concorde. The other two are located in New York – in Central Park – and London, on the Embankment near the Victoria Embankment Gardens. The ones that were presented to the cities of London and New York are from the same site in Heliopolis, Egypt.
From Egypt to London
London's obelisk was presented to the city in 1819, but remained in Alexandria for nearly sixty years until the British government could afford to move it. The United Kingdom received the gift from Mehemet Ali, the then-viceroy of Egypt.
It cost £10,000 to eventually bring Cleopatra's Needle to London, and the bill was footed by local anatomist and philanthropist Sir William James Erasmus Wilson. The obelisk capsized in a storm in the Bay of Biscay on the way to London, killing six crew members, who are commemorated on a plaque at the obelisk. The ship however was rescued and taken to Spain for repair, eventually arriving in London in January 1878.
About the Obelisk
The structure is made of red granite and stands about 68 feet (21 meters) high. The 180-ton needle originally came from the ancient city of Heliopolis and was believed to have been erected by order of Pharaoh Thutmose III around 1443 BC.
Egyptian hieroglyphs cover the structure, and experts note that these were added about two hundred years later by Ramesses II in honor of his military victories. In about 12 BC – when Egypt was part of the Roman Empire, the London and New York obelisks were moved to the city of Alexandria and placed in the Caesareum, a temple built to honor Caesar and Marc Antony – a Roman General and supporter of Caesar – by Cleopatra (who had a relationship with Caesar and later with Marc Antony). They were later toppled and covered with sand, which actually aided in their preservation.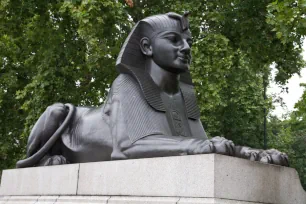 Two bronze replicas of Egyptian sphinxes sit on either side of Cleopatra's Needle and bear the inscription "the good god, Thuthmosis III given life", written in hieroglyphics. The sphinxes face the wrong way. They look in the direction of the obelisk, while they are meant to look away from the monument in order to protect it against enemies.
Though Cleopatra's Needle was restored in 2005, visitors can still view damage to one of the sphinxes' pedestal, caused when a German bomb landed near it during a World War I air raid.