The Palácio National da Pena (Pena National Palace) is an eccentric palace built in the nineteenth century for Dom Fernando II, consort of Queen Maria II of Portugal. The palace is one of several in the town of Sintra, some 40 kilometers from Lisbon.
Monastery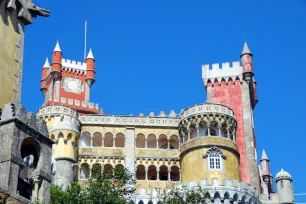 At the end of the fifteenth century, King Manuel I ordered the construction of a Hieronymites monastery at the site of a chapel that stood at the top of a hill in Sintra. After the earthquake of 1755 the monastery had fallen into ruin. In 1838 King consort Fernando II fell in love with the site and decided to acquire the property. He planned to restore the ruins and convert it into a new summer residence for the royal family.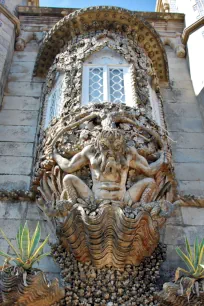 Construction
Construction of the new palace started in 1840 and the king consort would spend his whole life realizing his dream castle. It was finally completed in 1885, the year he died at the age of sixty-nine.
The design of the palace is the result of the romanticist movement of the nineteenth century, during which artists often portrayed history with idyllic nostalgia. The architect, the German Ludwig von Eschwege, created a fascinating mixture of revival styles, with Neo-Manueline, Oriental, Renaissance and even Egyptian motifs. In 1910, when the monarchy was overthrown, the palace became a national museum.
The Palace
Despite the hodgepodge of revival styles, the palace looks surprisingly harmonious. It's a fascinating structure, with an amalgam of curious looking towers, turrets, onion domes, oriental arches and crenelated walls. The use of yellow, pink and purple pastel colors completes the fairy-tale character of the palace.
The heart of the palace is formed by the Gothic cloisters, decorated with ceramic tiles. Near the cloisters stands the large clock tower. To the south of this tower is a large gate, known as the Triton Gate, flanked by two domed towers. The gate is profusely decorated in Manueline style and shows a malicious looking Triton on top of a large seashell supporting a bay window. There are several other gates in the palace, all in a different style, from oriental to medieval.
Near the Triton Gate are the main residences of the palace, including a ballroom with a large chandelier. Also worth mentioning is the magnificent Arabic room, with an intricately decorated ceiling.