The Estação do Oriente or East station was built in 1998 as the main transportation terminus for the World Exposition held that same year in Lisbon. The modern railway station was designed by the Spanish architect Santiago Calatrava.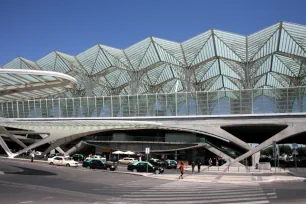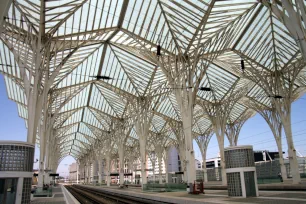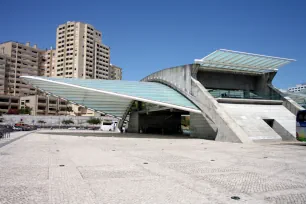 World Expo
The Oriente Station was built between 1993 and 1998 near the site of Expo '98. The world exposition took place at a former industrial area along the Tagus River, some five kilometers from the center of Lisbon. The area, now known as the Parque das Nações (Nations' Park), has been turned into a trendy neighborhood with plenty of architectural highlights.
In order to connect the newly developed area with the rest of Lisbon, the idea was launched to convert an old elevated railway yard into a state-of-the-art transportation cluster with a train station, bus terminal, parking garage and subway station. A closed competition was held and a modern design by the celebrated Spanish architect and engineer Santiago Calatrava was chosen as the winner.
The Station
Calatrava created a futuristic looking terminus in steel, concrete and glass with four different levels. The most impressive is the uppermost level, where four train platforms are covered with a glass roof supported by columns that resemble trees with multiple branches. The size of the roof is impressive, measuring 238 by 78 meters (781 x 256 ft).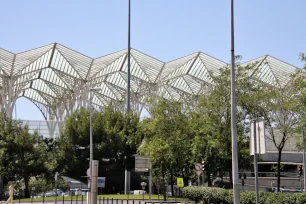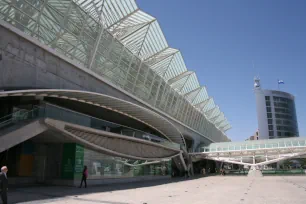 At the ground level, wide entrances covered by enormous glass canopies allow easy access to the railway station. Spacious halls and plenty of entrances allow for smooth navigation through the large structure. You can walk straight through it, a far cry from the original railway lines that were positioned on a talus that cut the neighborhood in half. Large concrete arches – said to resemble the skeleton of a large whale – support the upper floors. The lower floors contain the ticket booths, retail outlets and a subway station.
Even after the World Exposition of 1998 had come to an end, the station continued to function as a major transportation center, and today it is constantly teeming with people. The Oriente Station is not only successful as a transportation hub, it has also become an iconic structure and one of the most important architectural landmarks built in twentieth-century Lisbon.