Acclaimed by critics as one of the world's "most outstanding examples of modern architecture", Hong Kong's Bank of China Tower is truly a sight to behold.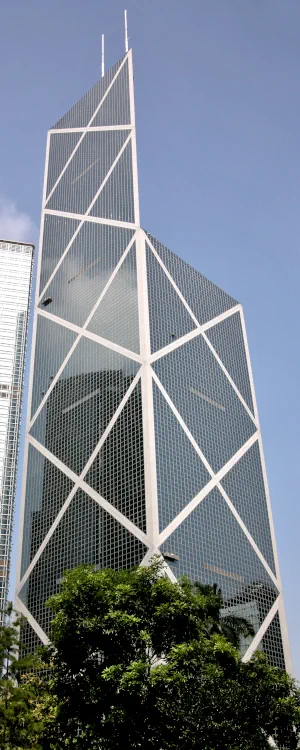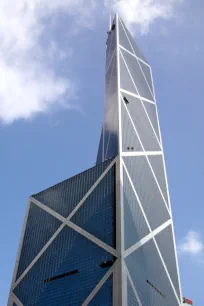 Cutting majestically into the vast blue sky, soaring high above the other skyscrapers that dominate the skyline in a country short on space, this magnificent tower stops many visitors in their tracks, causing them to look up, mouths hanging open, admiring this sparkling marvel of modern engineering.
The Architect
Renowned Chinese architect I. M. Pei is responsible for the amazing design of the Bank of China Tower. Born in 1917 to a wealthy Chinese family, Pei studied his craft in the United States, earning his degree from the famed Massachusetts Institute of Technology and continuing his studies at the Harvard Graduate School of Design.
During the twentieth century, Pei was responsible for the design of some of the world's most magnificent buildings, including the East Building of Washington's National Gallery of Art, Cleveland's Rock and Roll Hall of Fame, the John F. Kennedy Library and, most notably, the expansion and modernization of the Louvre Museum in Paris.
Pei is the recipient of an extensive list of awards from countries and organizations worldwide, including the prestigious Medal of Freedom, presented to him in 1993.
The Design
The Bank of China Tower stands 70 stories tall, reaching a height of 1,209 feet (369 meters.) At the time of its opening in May 1990, it was the tallest building in Asia, and it still remains one of the tallest in Hong Kong.
The building consists of four triangular glass and aluminum towers, all of varying heights, which emerge triumphantly from a beautiful granite podium. The geometric changes that take place as the building rises toward the sky are the most intriguing aspect of the tower. The angles and sharp points are aesthetically interesting – a contrast to the plain architecture that dominates the city – and the silver reflective glass used in the tower creates dancing points of light, both on sunny days as well as at night, when Hong Kong is aglow with all sorts of artificial light.
Inside, the atrium is a soaring 14 stories tall and visitors can take a quick elevator ride up to the skydeck on the 42nd floor, where they'll be provided with great views of downtown Hong Kong and beyond.
A Bit of Symbolism
It is said that I.M Pei designed the Bank of China Tower to "represent the aspirations of the Chinese people yet also symbolize good will toward the British Colony". It's been noted that the bamboo plant was also an inspiration for this unique building and that the trunk of this massive structure is representative of the growth patterns of bamboo, the symbol of hope and revitalization in the Chinese culture.