Bethmann Park is a small but pleasant walled park near Frankfurt's inner city. The park's star attraction is a beautiful Chinese garden which was created here in 1990.
History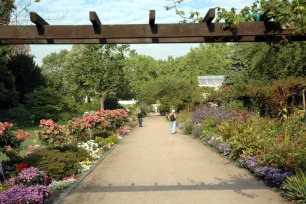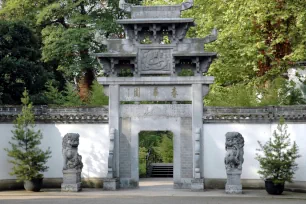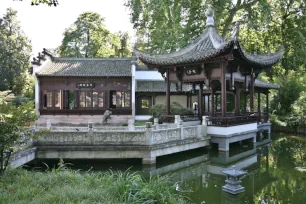 The park was originally a private garden created in 1783 by the wealthy banker Moritz von Bethmann (1768-1826). In 1941 the garden was acquired by the city of Frankfurt. It was opened to the public in 1952 after the Bethmann Family agreed the park to remain city property.
Today Bethmann park is one of Frankfurt's most beautiful parks, featuring many colorful flowerbeds. It's a great place to relax or play chess on the giant outdoor chess board.
Chinese Garden
In 1990 a Chinese garden, the 'Garden of Heavenly Peace' was created in memory of the victims of the Tiananmen Square massacre. The garden is authentic, created according to the principles of feng shui by Chinese craftsmen. Most of the materials were imported from China.
The walled garden's entrance is guarded by two Chinese lions. The garden features a temple, a pagoda and the beautifully carved Jade Bridge.
Location
Bethmann park is certainly worth a visit, in particular its Chinese garden. The easiest way to reach the park is by underground, it is just a short walk along Berger Straße from the Merianplatz Station on the U4 line. Alternatively, you can walk to the park from Konstablerwache via the K. Adenauer Straße (500m distance).