The Kreuzkirche is an eighteenth-century church in Neoclassicist style. It was damaged by bombardments in 1945, but reconstruction already started the following year.
Nikolaikirche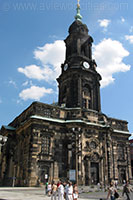 Kreuzkirche
Dresden's first church, the Nikolaikirche (St. Nicholas Church) was built in 1215. The church was reconsecrated in 1388 as the Kreuzkirche (Church of the Holy Cross) after the marriage of Henry the Illustrious, whose wife brought a relic of the Holy Cross to Dresden.
History
The Kreuzkirche has a history of being destroyed and rebuilt. In the early fifteenth century, the old church from the thirteenth century was replaced by a Gothic building, which burned down in 1492. In the rebuilt church, the first Lutheran service in Dresden was held in 1539.
Between 1579 and 1584 a new tower was constructed, ninety meters tall. Bombardments of the Prussian army in 1760 heavily damaged the Kreuzkirche. Its tower seemed unharmed, but collapsed five years later during reconstruction work. The church was rebuilt once again between 1764 and 1792 after a Neoclassicist design by Johann Georg Schmidt.
Disaster struck again in February 1945 when the Kreuzkirche was one of the many buildings that were damaged by fire bombardments. Reconstruction of the exterior started soon after the war, in 1946, and was completed in 1955. The interior was only restored provisionally; in 1995 new renovations were started.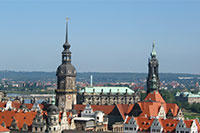 View from the church tower
Kreuzchoir
The Kreuzkirche may have a very sober interior, it does have excellent acoustics. The church's famous Kreuzchoir performs here regularly. There are also organ recitals held in the church.
Views
The Kreuzkirche is located at the center of the old town, near the historic Altmarkt square. Its 92-meter-tall tower is open to the public. From the balcony near the top, you have a 360 degree view over the city.