Chicago's city hall takes up one half of a monumental early 20th century structure that occupies a whole city block in the city's central Loop district. The other half of the building houses the administrative offices of Cook County.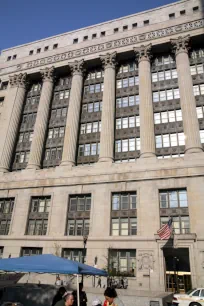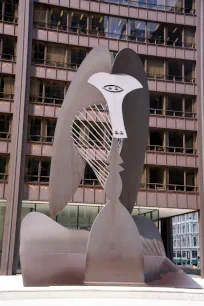 The Building
The imposing Neoclassical building was constructed between 1905 and 1911 after a design by the local architectural firm of Holabird & Roche.
The granite facades are dominated by monumental Corinthian columns. Each column is hollow and consists of fifteen granite segments. The columns rise to a height of 75 ft (23 meters). The structure is topped off with a recessed terracotta floor. The initially planned central dome was never realized since it was deemed too expensive.
The structure is essentially a large office building consisting of two symmetrical buildings, with the west section being the City Hall and the east section – facing Daley Plaza – being the County Building. The County Building was completed first, in 1908 and the City Hall was completed three years later. In January 1982, the building was designated as a Chicago Landmark.
In 2001, a roof garden was created on the west half of the building's roof (the city hall section) as a way to promote urban roof gardens and reduce the building's energy consumption. The roof, which is not open to the public, was planted with prairie flowers.
Richard J. Daley Plaza
The Daley Plaza was created when the city block in front of the County Building was demolished and replaced by the Civic Center (now Daley Center), a steel Miesian high-rise which at the time, in 1965, was the tallest in Chicago with a height of 846 ft (almost 200 meters). The once densely built area with fourteen different structures was now replaced with a skyscraper that occupied only 35% of the area, creating space for a public plaza, the Civic Center Plaza.
The untitled sculpture at the center of the plaza was created by Pablo Picasso from the same steel used for the construction of the Daley Center. When it was installed here in 1967, it caused quite a controversy, but it nevertheless started a trend and many more modern public sculptures have since been installed in Chicago.