Built in 1921 during the Golden Age of entertainment, the Chicago Theatre was the first of its kind and paved the way for many other marvelous theaters that came after it.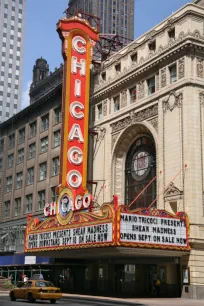 Dubbed "The Wonder Theatre of the World", the Chicago Theater was the first truly lavish movie theater in America. Costing more than $4 million when it was built, the theater was the pride and joy of owners Barney and Abe Balaban and Sam and Morris Katz, who went on to build many other movie palaces throughout the country.
Design
You'll find all sorts of unique architectural touches in this French Baroque-style theater – both inside and out. The grand lobby inside is modeled after the Royal Chapel of Versailles. It's five stories high and surrounded by gallery promenades at the mezzanine and balcony levels. Ascend to the balcony on a grand staircase that was modeled after the one in the magnificent Paris Opera House.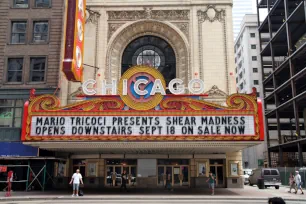 Outside above the State Street marquee, you'll find a mini Arc de Triomphe, sixty feet wide (18 m) and six stories high. It's glazed in off-white terracotta and a beautiful circular stained-glass window is set inside the arch, bearing the coat of arms of the theater chain.
The theater itself seats 3,600 patrons and is seven stories high. In all, it covers about half of a large city block. A 29-rank Wurlitzer theater organ still sits inside, a relic from the days of silent films.
The theater's six-story vertical marquee is its most recognizable feature. It's one of just a few such signs still in existence today, and it's become an important part of the Chicago skyline.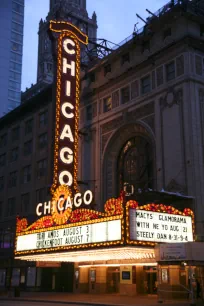 The Theatre Through the Years
During its early years, the Chicago Theatre presented both films and live entertainment. By the 1970s, when stage shows were passé, the theater became a movie house and began to decline in popularity and faced neglect which caused its deterioration. It closed in 1985.
In 1986, Chicago Theatre Restoration Associates, with assistance from the City of Chicago, bought and saved the theatre from demolition. In nine months, after spending millions, the theater was restored to its original grandeur and continues to present top-name live entertainment with a little something from everyone, from pop performers to comedians to international dance troupes.