The monumental Matthias Fountain overlooks a courtyard of Budapest's royal palace. The fountain shows a scene from the legend of King Matthias and the beautiful peasant girl Ilonka.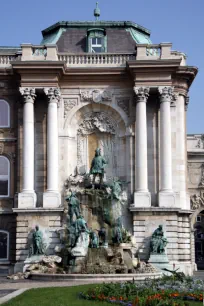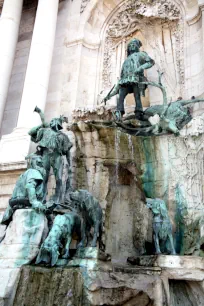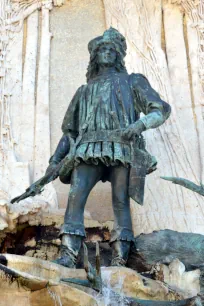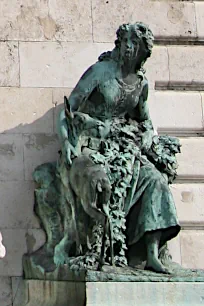 The fountain was designed in 1904 by one of Hungary's most acclaimed sculptors, Alajos Stróbl and built against a wall of the C wing (the central wing) of the Buda Palace.
The Legend of Ilonka
The fountain recalls a story from the era of King Matthias Corvinus (Mátyás) that was recorded by the court historian and later popularized by the nineteenth-century poet and dramatist Mihály Vörösmarty.
King Matthias often went hunting incognito. One day, when he and his friends were on a hunting trip, he met the attractive peasant girl Szép Ilonka. They fell in love at first sight. When Matthias returned to his palace, he didn't reveal his identity, but instead told Ilonka to come visit him in Buda.
As soon as she could, Ilonka sped to Buda. When she arrived there, a large crowd had gathered to welcome the king from a victorious battle. When Ilonka saw Matthias in full regalia on horseback, she was shocked to discover she had fallen in love with the king. Being a simple peasant girl, she was convinced that she could never marry him and walked home consumed with sorrow. Shortly after, she died from a broken heart.
Two weeks later the king, who hadn't noticed Ilonka in the crowd, went back to her house, only to find it empty.
The Fountain
The fountain shows a hunting scene, set against a wall and framed by massive Corinthian columns. At the top, in front of a niche, is the bronze figure of King Matthias, holding a crossbow in his hand and standing proudly near a slain deer. At his feet, in front of a small waterfall, are three large hunting dogs, his gamekeeper and his shield bearer. To the left, at the base of the columns, is the seated figure of Galeotto Marzio, the Italian court historian who first recorded the story of Ilonka. The historian, who is accompanied by a dog, holds a falcon on his wrist. On the other side is the story's protagonist, Szép Ilonka, who appears to be feeding a young deer.
Local folklore has it that anyone who throws coins in the fountain will be granted a safe return to Budapest.