The bottomless lake is located in a nice park in Buda, with plenty of statues and several playgrounds. The Cistercian church of St. Emeric in the background creates a great photo op.
The Lake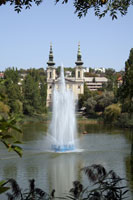 Bottomless Lake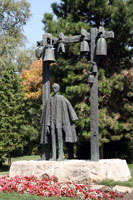 Béla Bartók Memorial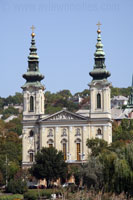 Church of St. Emeric
The one hectare large lake is not quite bottomless, but it's still surprisingly deep, with a depth ranging from 4.5 to 5 meters (15-17ft). The lake is located at the site of a former brick factory, which used the clay in the ground to bake bricks.
According to local folklore the workers accidentally hit a spring which caused the large pit they had created to be filled with water. Some even claim several workers perished during the event and their remains would still be lying on the bottom of the lake.
The official story however is less dramatic. After the brick factory closed at the end of the nineteenth century ground water slowly started to seep in and eventually filled the whole pit.
The Park
The lake attracts all the attention, but the surrounding park is pretty nice as well. There's a walking path that encircles the lake and plenty of locals come here for a stroll or enjoy the scenery from one of the benches. Several statues and monuments adorn the park, including a memorial dedicated to Béla Bartók, a Hungarian composer and pianist. The memorial, which shows Bartók standing under a belfry, was created in 1981 by sculptor József Somogyi.
Church of St. Emeric
Overlooking the park and lake is the Cistercian St. Emeric Church (Szent Imre templom). The church looks much older than it is: it was built in 1936-1938 after a neo-Baroque design by the Hungarian architects Gyula Wälder and István Pázmándy.
The original plans included a monastery as well, but that was never built. It's worth to take a look inside to admire the richly adorned altar and pulpit. The ceiling is decorated with colorful flower and geometric motifs.