The Sydney Tower, the city's tallest structure, is one of Sydney's most prominent landmarks. The 309-meter-tall (1014 ft.) tower was built in 1981 as a communications tower and tourist facility. Each year, more than a million visitors enjoy the spectacular views over Sydney.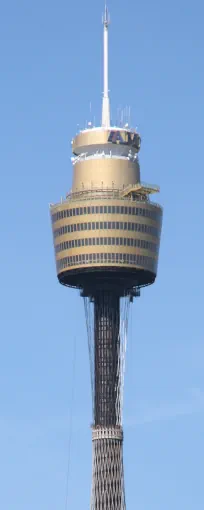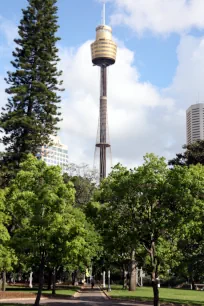 The Name
The tower is often referred to as Centrepoint Tower or AMP Tower. Centrepoint was the original name – and still the name of the shopping center at the foot of the tower – while AMP was the owner of the tower for some period. While these two names are still frequently used, the structure is now officially known as Sydney Tower.
Observation Deck
High speed elevators bring visitors in just 40 seconds to the eight floor turret. Nicknamed 'golden basket', the turret contains an observation deck, a coffee lounge
and two restaurants. The enclosed observation deck offers a 360 degree view over Sydney from a height of 250 meters (820 ft.). For the daring, there is also the skywalk, an open-air stroll on a glass-bottomed platform 268 meters above ground level. During the skywalk tour, skyguides will point out the many landmarks visible from the tower. On a clear day, visitors can see as far as 55 km. (34 miles).
History
The Sydney tower was the culmination of the Centrepoint project, which started in 1970 with the construction of a shopping center at the heart of Sydney's Central Business District. In 1972 the first shops opened and two years later the building, which also contains offices, was completed. That same year, the construction of the tower's shaft started. The turret was built at the bottom and was raised as the shaft's construction progressed. After slowly creeping up for seven years, the tower was finally completed in September 1981 as the Centrepoint Tower.
Strength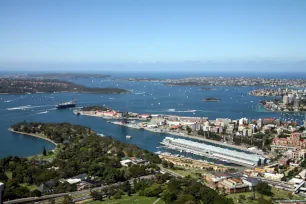 The tower structure may not seem particularly robust, but it is designed to withstand extreme earthquakes and strong gales. The tower is stabilized by 56 cables weighing 7 ton each. If the strands of all the cables were laid end to end, it would reach all the way from Sydney to New Zealand. And a 162,000 liter water tank at the top of the turret acts as an enormous stabilizer. Two separate sets of stairs provide emergency exits in case of fire. During the yearly 'Tour Run Up' event, runners race up 1304 steps (out of the total 1504).