Central Station is the largest railway station in the city of Sydney and the origination point for much of the city's rail services.
Station History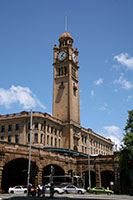 Central Station
The current site of Central Station first housed a railway station in 1855. This original station boasted just one wooden platform, enough to handle the rail traffic of that era. As railroads continued to spring up and railroad traffic increased, it was necessary for a new station to be built. This second station, known as Redfern, was constructed in 1874 on the same site. It began with two simple platforms and grew to fourteen before it was demolished and replaced by the current Central Station.
The Current Railway Station
This current station was constructed in 1906. It was designed by the New South Wales government architect, W.L. Vernon. More like two separate stations than one large station, Central Station was originally divided into "steam" and "electric" sections.
The steam or western half, known as 'Sydney Terminal', currently includes fifteen platforms and was the first part of the station opened to the public. It includes a large vaulted roof over the concourse and the elaborate sandstone masonry interior. Most of the platforms in this section are used for CityRail services.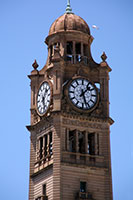 Clock Tower
The eastern part of the station, in the past known as 'Central Electric' consists of twenty platforms, four of which are situated underground. Construction on the underground railway line started in 1948, but was only completed thirty-one years later, in 1979. Only two of them have actually been put in use. The above-ground platforms were built in 1926 as part of a modernization program designed to improve the suburban railway services from the city.
The Clock Tower
The most striking part of Sydney's Central Station is the 75-meter-tall (246 ft.) clock tower, situated at the northwestern corner of the building.
The sandstone tower in Gothic Revival style was built between 1915 and 1920. The clock only started operating the next year, on March 3, 1921. The four clock faces each have a diameter of 4.77 meter (close to 16 ft). 302 steps lead to the clock. In the past, the adventurous could climb all the way to the top, but unfortunately those tours were cancelled indefinitely.