Tyska Kyrkan (German Church) is the most impressive reminder of the often dominating influence of Germans in medieval Stockholm. The spire of the church marks the highest point in Gamla Stan, Stockholm's Old Town.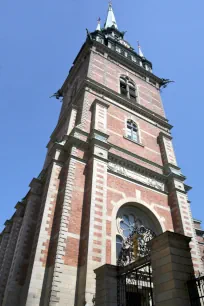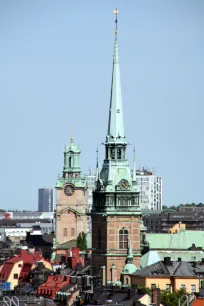 German influence in Stockholm
During the fourteenth and fifteenth centuries, German merchants of the Hanseatic league settled in Gamla Stan. They dominated the local trade and had a large influence on politics. A law was even passed to prevent people of German birth from obtaining a majority in the city council.
Today places like Tyska Prästgatan (German Priest Street), Tyska Brinken (German Slope), Tyska Brunnsplan (German Well Square) and Tyska Stallplan (German Stable Square) still remind us of the once so important German presence.
Construction
The German Church was originally built in the fourteenth century as a guild house for the German merchants of the Hansa. During the sixteenth century, the guild house was converted into a church dedicated to St. Gertrude.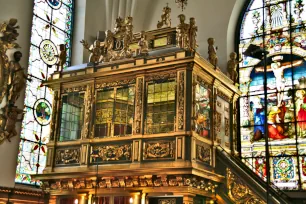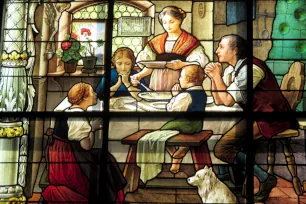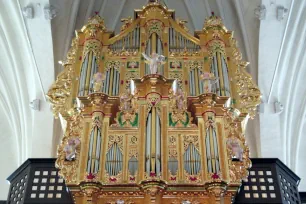 Its current appearance stems from the seventeenth century, when German merchants commissioned master builder Hans Jacob Kristler with the expansion of the small church. The church's signature 96-meter-tall (315 ft.) tower was built in 1878 after the old tower was destroyed by fire.
Interior
Inside Tyska Kyrkan visitors will find a unique gallery, the Kungaläktaren (King's Gallery). It was built by Nicodemus Tessin the Elder – best known as the architect of the Drottningholm Palace – for queen Hedvig Eleonora, a member of the Swedish royal family who was of German descent. The gilded gallery, in an opulent late Renaissance and Baroque style, is decorated with plenty of ornaments and small statues of putti.
The southern gallery is also magnificent; it contains 119 paintings that depict biblical scenes. Above the gallery is an impressive organ, built as recently as in 2004. It is a modern replica of the church's first organ, which was installed here in 1684. Another – less ornate – organ was built in 1973.
The Baroque retable behind the altar was created in 1640. Three central paintings of Jesus are flanked by statues of apostles and evangelists. Also of note is the pulpit, created in 1660 and made of alabaster and ebony. And finally, take some time to admire the colorful windows, created around 1900. Some depict religious figures, while other show scenes from daily life.