The PSFS building is the first skyscraper in the US built in the International style. This style, which had its roots in the influential Bauhaus school from Germany, called for a simplified and functional architecture without any decoration.
New Headquarters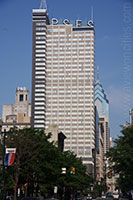 PSFS Building
The modern skyscraper was designed by a young Swiss Architect, William Lescaze, and his partner George Howe, a Philadelphia architect who had already designed branches for the Philadelphia Saving Fund Society.
When this bank, the oldest of its kind in the United States, decided to build a new headquarters, it naturally turned to Howe. With the support of the bank's president, James M. Wilcox, they broke with the traditional conventions for office architecture.
Visible Functional Areas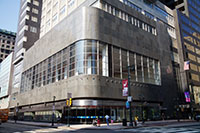 The base
For the first time, instead of hiding the different functional areas in the building, they were made visible in the exterior form. For each of these functional areas, different materials were used.
The base of the building, which included retail stores, is covered with polish gray granite. The base forms a podium from which a 30-story T-shaped office tower rises. The rear of the building acts as the service core and is covered with glazed and unglazed black brick. It contrasts with the sand colored limestone facade of the offices. The windows form horizontal strips, emphasizing the horizontal layers of office floors. Wilcox objected to this idea, so as a compromise exposed vertical columns were added.
Most Modern Building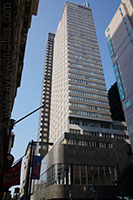 The PSFS building was completed in 1932 and received immediate recognition as a breakthrough architectural achievement. Touted as the most modern building of its time, it was the first building of its size to be fully air-conditioned year-round. Expensive materials were used throughout the building. Most of the furniture and design elements were custom designed as there was no inventory of such modern furnishing in the US.
Loews Philadelphia Hotel
After the Philadelphia Saving Fund Society closed in 1992 due to its parent company's bankruptcy, the future of this National Historic Landmark was in doubt. Fortunately Loews Corporation purchased the building in 1997 and completely renovated the building while preserving the original design. And even though the building reopened in April 2000 as the Loews Philadelphia Hotel, the marquee PSFS sign at the top of the building remained.